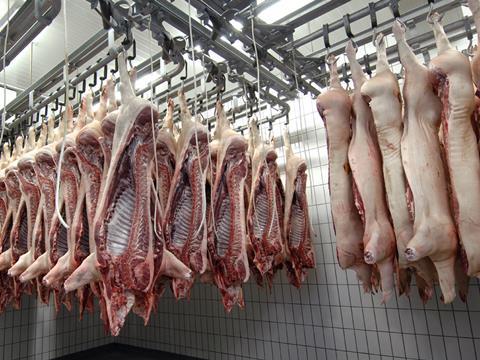 The FSA is trialling the use of blockchain technology to improve transparency around meat inspection audits in slaughterhouses.
The regulator launched a "small and simple" Distributed Ledger Technology (DLT) pilot exploring the "communication of inspection results of meat at slaughter" two months ago, CEO Jason Feeney revealed in his latest update to the FSA board, published today ahead of Wednesday's meeting.
Under the pilot, which is being delivered by IBM, data uploaded from abattoir information management systems that meets an FSA data standard developed in collaboration with industry can be accessed by those with an interest using a permissioned ledger.
The FSA, which convened a group of DLT experts from government, food sector, technology industry and academia last December to "join up disparate work in the area of food", hoped this initial pilot would help determine "whether and how" blockchain technology could add value, Feeney said.
The FSA has also published the initial findings from its recent review of meat cuting plants and cold stores in the UK, which will be discussed by the board on Wednesday.
Based on the findings to date, the regulator said it did "not believe that current meat industry practices present a systemic risk to public health, but the overall system of assurance and regulation does require modernisation".
Meat inspector survey
It comes as Unison this weekend accused the FSA of putting consumer health at risk with "attempts to cut back on meat inspectors and allow the industry to regulate itself."
The trade union claimed a survey of 110 meat inspectors working for the FSA in England, Wales and Northern Ireland had highlighted "concerns that contaminated and diseased meat could be cleared as fit for human consumption" if the industry was left to conduct more of its own controls.
Nearly every meat hygiene inspector surveyed (98%) believed that the meat industry couldn't be trusted to ensure no faecal contamination was present on the carcase before it was sold on to the consumer, it said.
Additionally, 96% of the inspectors surveyed thought staff directly employed by the meat industry couldn't be trusted to recognise and remove diseased sections of meat.
Unison also warned of "endemic" bullying of meat inspectors in UK slaughterhouses, with two-thirds of respondents to the survey saying they had witnessed, or been subjected to, bullying or harassment in the past year.
In response, the FSA said it currently had no plans to make any significant changes to the number of meat inspectors it employed.
"We keep a constant eye on how many meat inspectors are needed and we don't expect the overall number to change significantly in the foreseeable future," said a spokesman. "Our meat hygiene inspectors, who are wholly separate from the meat industry, carry out an invaluable job by making sure the meat which people eat is safe."
The regulator took allegations of bullying "very seriously", he added, and was working with the meat industry on the issue.
"We have an absolute zero tolerance approach to bullying and are fully committed to promoting harmonious working in which everyone is treated with respect and is able to carry out their work free of intimidation or harassment."