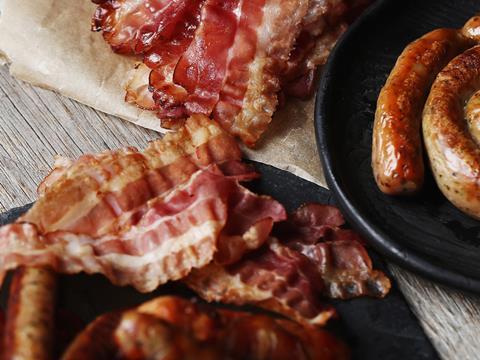 Calls for government action to remove nitrites from bacon and ham have been branded an "oversimplification" of a complex issue by British Meat Processors Association CEO Nick Allen.
The widespread use of the preservative, and the meat industry's reaction to its link to cancer, was "reminiscent of the tobacco industry's stance in the 1990s", said cardiologist Dr Aseem Malhotra last week.
Malhotra, who is part of a group of scientists and cross-party MPs urging the government to do more to remove the chemical from bacon and ham, warned the meat sector would be "condemned to a similar reputational blow dealt to tobacco" if it continued to dispute the link between nitrites and cancer.
However, Allen stressed the sector was "looking at this issue the whole time", while he dismissed the comparison to the tobacco industry, and the claim "we're all in denial about this".
The group, which is led by Professor Chris Elliott and also includes deputy Labour leader Tom Watson, plus prominent MPs Mary Creagh, Kerry McCarthy and David Amess, said not enough was being done to reduce the cancer risk in processed meats in a statement last week.
'Consensus of scientific opinion'
They are calling for the government to treat nitrites in bacon and ham in the same way it treats sugar or fatty foods, and point to a "consensus of scientific opinion" that nitrites produce carcinogenic nitrosamines when ingested.
Citing the success of companies such as the UK's Finnebrogue, which launched a range of nitrite-free meats in 2017, and Nestlé, which sells nitrite-free meat products in France, they urged the government to launch a public awareness campaign on the chemical and its prevalence in processed meat.
"There is a consensus of scientific opinion that nitrites in processed meats result in the production of carcinogenic nitrosamines – and therefore increase cancer risk for those who regularly consume traditional bacon and ham," the group said.
"We must work together to raise awareness of their risks and encourage the much wider use of nitrite-free alternatives that are safer and can reduce the number of cancer cases," they added.
'Frustrating' response
But in response, Allen said the accusation the industry was "not doing anything is really frustrating".
Nitrites were "used to protect the consumer against potential food poisoning issues", he said. "You don't just blindly do away with those."
PTF director general Andrew Kuyk, who said the use of nitrites and other permitted additives played "a key role in preventing microbial growth and other potential causes of food poisoning", echoed his comments.
"Their use is kept under constant review by the relevant public authorities," he said. "Even where nitrites are used in the curing process, they do not necessarily persist in the final product as consumed."
"EFSA carried out a full assessment of its safety advice following publication of the 2015 WHO study on which these current calls for action are largely based. They concluded there was no need to change previously set safe levels."
Meanwhile, Meat Advisory Panel-member professor Robert Pickard, said the greater risk of exposure to unsafe levels of nitrates came from NOx gases in the traffic pollution of urban areas.
"These form soluble nitrogenous salts on the surface of the lung. This is where we should focus our attention if we want to have the biggest impact on human health, as far as nitrogen uptake is concerned."