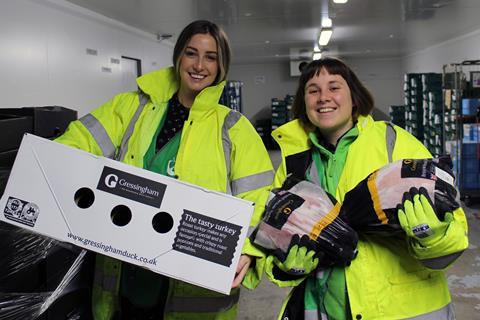 People in need will be tucking into 2,000 turkeys for Christmas this year – thanks to The Grocer's Waste Not Want Not campaign.
Duck and poultry supplier Gressingham Foods has diverted its surplus frozen birds to the charity FareShare, which will redistribute them to groups across the UK over the festive season.
The FareShare Surplus with Purpose Fund will cover the cost of packing and transporting the turkeys which would have otherwise gone to waste.
The fund is supported by a £1.9m grant from Defra, part of a £15m government scheme that launched in January to help redistribution organisations across England overcome barriers in getting surplus food to charities and community groups.
The scheme was set up as a result of The Grocer's Waste Not Want Not campaign, in which we lobbied government for a £15m subsidy to level the playing field against other food surplus disposal schemes. A petition, which The Grocer launched at 10 Downing Street in November 2017, was signed by over 16,000 signatories, and led Defra secretary of state Michael Gove to announce the scheme in October 2018.
"No one should go hungry at Christmas, so we wanted to do something that would make a real difference to people over the festive season," said Gressingham MD William Buchanan.
"Our partnership with FareShare will provide 20,000 servings of turkey, giving those in need the opportunity to enjoy a Christmas dinner at this special time of year.
"Linking up with FareShare has allowed us to give something back to the community and support an organisation that is providing a fantastic and much-needed service throughout the year."
FareShare commercial director Alyson Walsh added: "Christmas can be an incredibly tough time for families facing food poverty, as well as for those who are lonely and isolated.
"Over the cold winter months the work of the charities we supply becomes even more essential, so we're delighted that charity chefs up and down the country will now be able to serve up a festive turkey treat for some of the most vulnerable people in our communities thanks to Gressingham."
Adam Leyland, editor of The Grocer said today's announcement was a great example of how the Waste Not Want Not campaign had come to life.
"We have said all along that food surplus that can be safely and legally eaten has an exponential value, that a subsidy could unlock.
"The cost of distributing this surplus had been holding that back and it's great to see this food is now getting through to the people who need it in time for Christmas."