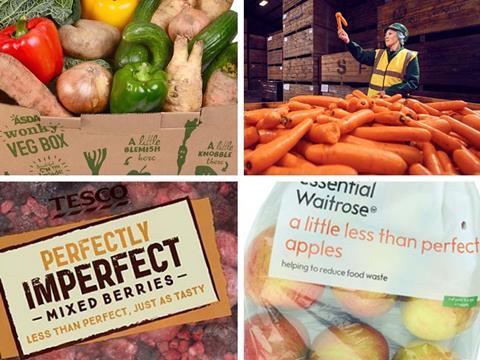 Shoppers continue to lap up wonky fruit & veg ranges, as the supermarkets introduce new lines and lower specification standards. But despite their progress, and a whole host of other developments highlighted in this week's Green Issue, much more needs to be done to reduce waste, and particularly at farm level, campaigners have warned.

Morrisons this week announced plans to launch a range of fresh veg boxes, including a £3 box with a variety of wonky and misshapen veg (see box), while sales of wonky produce have been soaring among its rivals. However, Wrap has warned millions of tonnes of produce still go to waste on farms due to onerous specifications.

Asda told The Grocer this week it had sold 200,000 wonky veg boxes since it was featured on C4's Jamie and Jimmy's Friday Night Feast in January 2016, equating to 1,000 tonnes of misshapen produce that might previously have gone to waste.

The £3.50 boxes have become so popular with shoppers that Asda increased the number in store from 1,000 to 2,500 every week in May. Customers "absolutely love the boxes and get really excited about them going in to store," a spokesman said.
Morrisons - singled out for criticism by Hugh Fearnley-Whittingstall's in November 2015 after it was exposed for wasting 40% of a parsnip crop - now sells over 500 tonnes of wonky produce a week to over 500,000 customers. This year it also extended its range to include wonky swedes, apples, pears, asparagus, avocados and strawberries.

Sainsbury's now uses wonky veg in 70 products, including broccoli rice and courgetti, while Waitrose's Little Less Than Perfect range, launched in February 2016, has seen volume sales grow 44% in the past 12 months, and will be extended to include peppers for the first time this autumn.

Elsewhere, The Co-op now stocks "a number" of imperfect products in 500 stores with plans to increase availability over coming months and include carrots, parsnips and other seasonal fruit & veg. Aldi relaxed specs on carrots and onions in April.

Relaxing specs on a host of crops has has also helped Tesco deal with excess supply in its supply chain, with its now nine-strong Perfectly Imperfect range "a hit with customers", said head of food waste Mark Little.

But despite this progress, much more needs to be done to tackle waste at the primary production level, according to a new study published this week by Wrap. It estimated that £30m-worth of the 2015 UK strawberry and lettuce crops went to waste due to continuing specification issues such as size and colour. The NGO has launched a series of projects to address tackle common issues that arise in production, which would pilot innovative models and interventions which will "move towards developing guidance and best-practice case studies to help others take action, and expand working practices [to reduce waste] more widely.