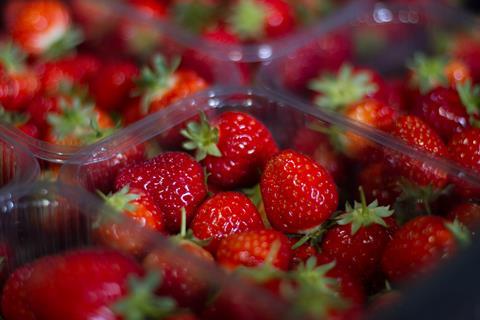 A consortium made up of Berry Gardens and major tech companies has been awarded £2.5m of government funding for a robotic farm project.
The investment from Innovate UK will see the major fruit co-op and its partners, including BT and Saga Robotics, perform a "world-first" demonstration of how robots could be used in soft fruit farming.
Set to take place at Berry Gardens member and strawberry grower Clock House Farm in Kent, the trial will see robots powered by renewable energy undertake energy-intensive tasks, like picking and packing fruit.
Known as 'Robot Highways", the project aims to provide a means to future-proof the industry by reducing the need for seasonal labour and boosting the efficiency and sustainability of growing practices.
It is estimated it will reduce fungicide use by 90%, cut food waste by a fifth and increase farm productivity by 15%, as well as reducing the need for fossil fuels.
"We are delighted that UKRI and Innovate UK have awarded funding to this exciting project, which will bring together for the first time many new technologies developed during many previous smaller scale research projects," said Richard Hamden, director of research at Berry Gardens.
"We have been partnered with the University of Lincoln and Saga Robotics Ltd for the past six years and this project will demonstrate at scale our jointly developed new capabilities in robotics for the UK soft fruit industry."
Berry Gardens has also won government funding for two additional research projects. One aims to help growers identify ripeness in blackberries and the other hopes to boost the efficiency of raspberry production.
Covid-19 impact
Meanwhile, the grower said it had seen a short period of market decline as consumers cut back the frequency of their shopping trips in the mults.
"At the start of lockdown, we saw consumers reducing their shopping trips down to once every week to 10 days to reduce putting themselves at risk," said chairman Robin Walker.
"This had a short-term detrimental impact on the sales of soft fruit [due to its] short shelf life. However, now the frequency of shopping trips has risen again, short shelf-life product sales are on the rise and in recent weeks have run well ahead of prior years."
It comes as its latest accounts filed with Companies House showed its 2019 sales increased by 3.2% to £319m.
Taking in the financial year to 31 December 2019, the co-op said sales had risen thanks to good weather conditions in the autumn combined with investments growers had made in season-extending technologies.
However, operating profit contracted by 46% to £2.3m due to the knock-on impact of the construction of a larger facility at its site near Maidstone, Kent.