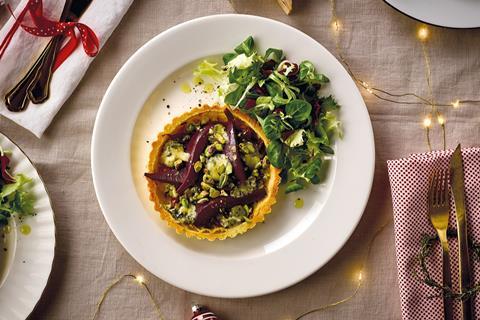 Sales of prepared salads in the run-up to Christmas are expected to surpass the bumper volumes of the past few years due to a renewed focus by shoppers on healthier foods, Florette has said.
The bagged salad giant suggested there was an "opportunity for salad to play a key role this winter" across the major retailers. A combination of the usual festive usage of salads with leftovers and as starters would be complemented by the category's strong health credentials and recent Kantar data that showed a third of consumption occasions were currently for health reasons.
Given the impact of the pandemic on diets, Florette category controller Polly Davis added "consumers are now, more than ever, looking to find a balance between the foods they love, while trying to stay healthy during the winter months".
The leafy salads category had seen volume growth over each of the past four years, she said, with the category seeing a 6% hike in volumes over the past two years [Nielsen and Kantar leafy salads unit sales 4 w/e 29.12.19 vs 31.12.17].
And with 35 million packs of leafy salad sold last December (up 300,000 on the previous year) the brand expected sales to continue growing this Christmas.
"The emphasis and public awareness around health has never been higher than in 2020 as a result of the coronavirus pandemic, so at Florette we expect this years' sales during December to supersede the growth we experienced last year. It will pay for retailers to start thinking about how they incorporate fresh into their Christmas merchandising now," Davis said.
"It's important for retailers to ensure they have a representative range of fresh categories to capitalise on this occasion. The majority of grocery stores stock all types of lettuce all year round but only invest in merchandising in the summer months, which is a mistake."