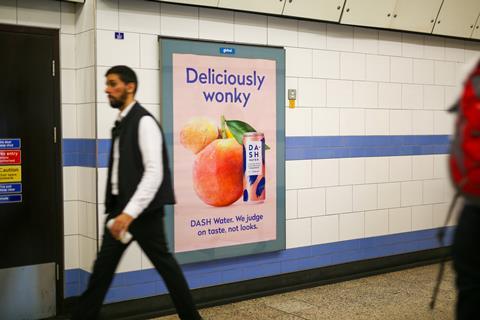 Nearly nine out of 10 (87%) of people would eat wonky fruit and vegetables if they were available, according to new research from Dash Water.
The figure – based on a poll of 1,000 UK consumers in July – increases to 93% for over 65s compared to only 70% for those in the 18-24 age category, which the brand claims suggests that younger generations may be less in touch with what natural fresh produce looks like.
Data also revealed that openness to wonky fruit and veg is strongest in northern England, Scotland and Wales, where over 90% of people said they would eat it, compared to only 77% in London.
But despite these findings, up to 40% of fruit and veg grown globally is going to waste as misshapen products are often rejected.
It comes as Dash Water has just launched its first advertising campaign, titled #lovewonky, with the brand running OOH ad activity across London in a bid to encourage the public to embrace imperfections.
Transport for London banned one piece of creative, carrying a wonky aubergine called Mr Nosebergine for being "too obscene". However, the public, polled by Dash, came out in support of the advert.
"The public response to our #lovewonky campaign was overwhelming and we were delighted to see the nation embracing our beloved Mr Nosebergine, who TFL had banned for being too misshapen," said Jack Scott, Dash founder.
"The results of our poll confirm the nation is ready for wonky fruit and veg and this should give the wider industry the reassurance to dial up efforts to make this delicious produce available and help tackle our food waste issue."
His comments were echoed by Lee Stiles, secretary of the Lea Valley Growers Association, who said: "We grow over 500 million cucumbers, sweet peppers and tomatoes every year and sometimes they're wonky. We celebrate the news that data reveals the UK is so open to enjoying the delights of misshapen fruits and veg and call on the wider industry to respond and give people more chances to enjoy these delicious misfits."