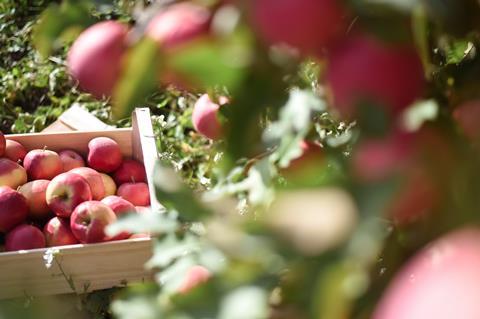 Pink Lady apples recorded double-digit volume sales growth over the initial part of the summer thanks to its latest ad campaign, its own data has shown.
The brand saw 11% growth over June and July compared to the same period in 2019, with volumes rising by 16% during June when it aired its first-ever TV ad in the UK.
It claimed brand awareness had risen four percentage points to 87% of the UK population after the campaign, which was said to reach 23 million adults during its three-week run.
Pink Lady enjoyed its biggest value sales month for two years in the month of July, its licensor Coregeo added, with an estimated £25m of apples sold.
"The uplift in sales is great news because it shows us that consumers are keen to enjoy a Pink Lady moment as a positive part of their day even during difficult times," said Pink Lady marketing manager, Lynn Shaw.
"Despite uniquely challenging circumstances this year, 2020 has been significant for Pink Lady with the launch of our new brand creative across all marketing platforms. We have adapted plans to ensure our communications are valuable and appropriate during the Covid-19 pandemic and the response from consumers has been overwhelmingly positive.
"We'd like to thank all of our licensees, growers, retailers and stakeholders for their support over this challenging time. Protecting the supply chain gives our consumers even more faith in the brand."
The challenges the imported fruit had faced since the start of the coronavirus pandemic included logistical problems, staffing issues, increased transportation costs and upped demand for apples as consumer health consciousness grew, Coregeo said.
Whilst its data had shown a positive sales period, the firm said it was too soon to say whether Pink Lady had won market share from British apples.
The news comes a matter of days after domestically-grown apple growers' body British Apples & Pears warned increased labour costs and the impact of the incoming supermarket price war could hit the apple industry's already tight margins.