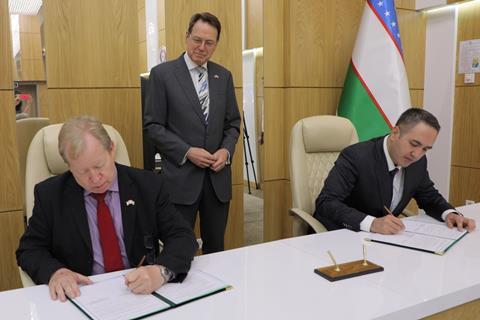 The Gangmasters & Labour Abuse Authority has signed agreements with the governments of Kyrgyzstan and Uzbekistan to strengthen protections for workers arriving in the UK.
Documents were signed at official ceremonies in the capital cities of Bishkek and Tashkent during a five-day fact-finding mission beginning on 21 May. The two countries were key suppliers of seasonal workers to the UK's horticulture sector last year.
The agreements establish areas of co-operation between the UK and the two central Asian countries, with information sharing about recruitment agencies a key priority. Work will include monitoring where agencies are used in the seasonal worker recruitment process, that they are operating within the rules and are not placing workers at greater risk of exploitation.
As part of the agreement, officials in Kyrgyzstan and Uzbekistan both plan to operate some of the recruiting and pre-departure activities that would normally be conducted by recruitment agencies, the GLAA said.
The agreements also commit the parties to protect the rights and interests of workers while working in the UK.
Seasonal workers
More than 6,000 visas were issued to workers from Uzbekistan and Kyrgyzstan as part of the fruit and veg sector's seasonal worker visa route in 2022, making up almost a quarter of all workers that year. Uzbekistan was the second-biggest source of seasonal workers last year after Ukraine, with Kyrgyzstan fourth on the list.
"We saw a sharp upturn in the number of seasonal workers coming to the UK from Uzbekistan and Kyrgyzstan in 2022, and our intelligence indicates that this is only going to keep rising in the next few years," said Darryl Dixon, director of strategy at the GLAA.
"As an organisation which exists to protect vulnerable workers, we are keen to ensure that everyone who arrives on the scheme leaves with a positive experience of working on UK farms and are not exploited for their labour," he added.
In Kyrgyzstan, the agreement is between the GLAA and the Centre for Employment of Citizens, part of the Kyrgystan Ministry of Labour, Social Security & Migration.
In Uzbekistan, the memorandum is between the GLAA on behalf of the UK government and the Uzbek Agency of External Labour Migration, part of the Ministry of Employment & Poverty Reduction.
"We hope the agreements further strengthen and develop the co-operation between our organisations on the basis of mutual solidarity and respect," said Dixon.
It comes as there have been increased calls for better policing within the seasonal worker supply chain due to rising concerns about human rights abuses.