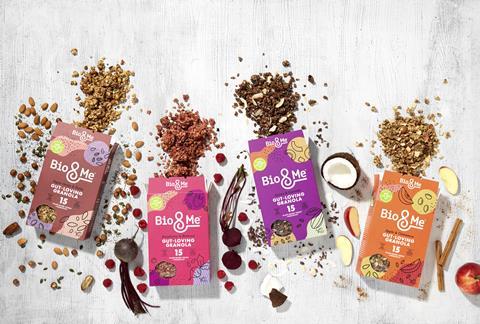 Only one in five applications for the Coronavirus Business Interruption Loan Scheme have been granted so far

CEO Jon Walsh said the process had been "very straightforward"

The startup was asked to provide a cashflow forecast and a five-year business plan
Gut health brand Bio&Me has secured a government-backed loan to cover working capital needs during the coronavirus crisis, despite widespread criticism of the scheme – with only one in five applications having been granted so far.
The startup received formal approval of its loan under the Coronavirus Business Interruption Loan Scheme (CBILS) from HSBC, about a week after submitting the application, with the funds expected to hit its bank account at the end of the month.
The process had been "very straightforward", said CEO Jon Walsh. He preferred to keep the amount of the loan confidential, he said.
"There are two main things you have to show when you apply," he added. "That your business has had a material impact from Covid-19 and what you are going to spend the money on.
"For us it is all about working capital, keeping supply steady and making sure we maintain customer service for the listings we currently have."
The startup also had to provide a cashflow forecast to demonstrate the money was needed, as well as a five-year business plan to show projected growth levels.
Having started trading only last November, Bio&Me did not have two years' worth of accounts – a requirement among many banks under CBILS – but was able to provide its monthly accounts since start of trading as evidence to support its application.
Additionally, Bio&Me chose to submit a document highlighting its value as an investment, why it needed the money and how it was going to spend it.
"You need to do your homework and have the correct financial information, but then I would encourage brands to apply," Walsh added.
"Treat this like any other investment, put your best foot forward and spend a couple of days doing a nice presentation so that you are making it easy for the relationship manager to approve the loan."
Bio&Me is stocked by Waitrose, Booths, Amazon, Selfridges, Planet Organic and Whole Foods Market.
As soon as the CBILS was announced, The Grocer reported widespread issues and concerns among brands fearing they would be "slipping through the cracks" of the available support.
The scheme was revamped at the beginning of April to tackle some of the issues around personal guarantees, but SMEs warned there remained issues to be addressed such as banks' eligibility criteria.
Challenger brand Olly's Olives is also in the process of submitting a formal application under CBILS for £100k. It said it was "very confident" it would be granted one.
Founder Olly Hiscocks said: "We are currently with NatWest and they have been absolutely brilliant. Ever since the ball got rolling, we were sent the form and we have been filling it out.
"We have a very good dialogue with our relationship manager and are just going through the process right now.
"We are pretty confident we will get what we need from the loan."
Official figures from UK Finance revealed last week that only 6,020 loans under CBILS had been approved, out of the 28,460 formal applications lenders had received.
The remaining applications were currently being processed, UK Finance said, as the number of loans approved each day continued to increase. It had currently approved £1.1bn of financing, it added.