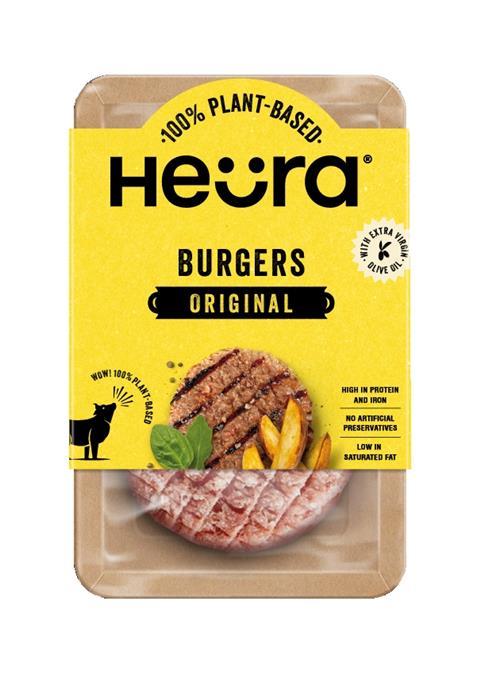 Spanish plant-based start-up Heura has scored a valuation of almost €70m (£60.2m) following a €4m (£3.4m) crowdfunding campaign, which included investment from former Manchester United and England international Chris Smalling.
The brand, which launched in the UK with a meat-free burger late last year, hit its initial €1m target on the Crowdcube platform and overfunded to €4m in less than 24 hours, with 3,007 investors backing the business.
Smalling, currently playing for Italian club Roma, put in a six-figure sum as part of the round in his latest investment in the plant-based space. It follows his backing for natural energy drink brand Virtue Drinks earlier this year, alongside investments in Allplants, This, Livia's and plant-based dog food start-up The Pack.
The Crowdcube round, as well as an investment of €8m committed to the business in a separate fundraising, values Heura at €69.7m.
The business was founded in 2017 in Barcelona by Marc Coloma and Bernat Añaños. It tripled revenues in 2020 to €7.6m and doubled its international reach to 16 countries, including entry to the UK market, where it is available at Planet Organic and online vegan supermarket The Vegan Kind.
Coloma said: "Backing from a top athlete like Chris further bolsters Heura's nutritional credentials, which are second to none. We are thrilled to have Chris on board and look forward to working towards a plant-based future together – one which is better for our planet and our health."
Smalling added: "Heura's mission for change mirrors my own personal mission. They go above and beyond as a brand to leave an imprint on the way people think about plant-based diets and animal welfare, alongside creating amazing products. We're both committed to making an impact for good so when I got the opportunity to invest in the business, I jumped at the chance."
Heura plans to use the cash to invest in innovation in R&D to expand its product range from plant-based meatballs and burgers and chicken chunks and strips to nuggets, sausage and mince.
Heura differentiates itself by creating its vegan products using extra virgin olive oil.