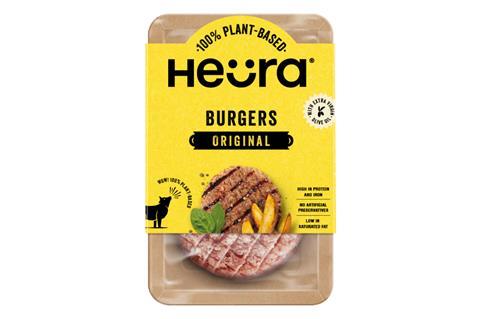 Spanish plant-based startup Heura has launched into the UK with a meat-free burger it claims contains 64% less fat than beef.
The Heura Burger 2.0 is said to contain 6.5g of fat thanks to Heura's development of a fat substitute made with extra virgin olive oil, which also meant the burger contained less fat than other meat-free alternatives, it said.
As well as aligning itself with the long-term consumer trend for Mediterranean diets, the Barcelona-based brand said its use of the oil also made its burger more sustainable than competitors who tended to use coconut and palm oils in a bid to replicate the juiciness of meat.
The pea protein and vegetable fibre-based burger is set to become available to consumers through Planet Organic and The Vegan Kind from the end of November with discussions said to be ongoing with larger UK retailers (rsp: £3.99/220g).
"Accelerating protein transition is my passion and it is in technology where I find solutions," said Heura co-founder and CEO Marc Coloma.
"Pioneers in the plant-based industry have always been our inspiration and we hope that this innovation boosts the plant-based meat category worldwide and leaves livestock obsolete."
Heura also claimed its NPD offers a clean label containing 40% fewer ingredients than the market average.