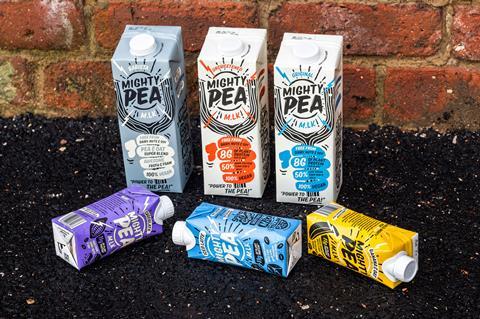 Plant-based milk producer Mighty Pea has secured more than £1m in funding from the government and existing investors to support distribution growth and international expansion.
The company, which makes a dairy-free alternative to milk from yellow split peas, secured half the funding from its existing investor base, with the rest matched by the government under the Future Fund scheme.
Mighty Pea was one of a handful of brands to receive cash under the Future Fund, with only about 10% of applications having been accepted so far.
The funding will be used to cover distribution growth, marketing costs and team expansion said co-founder Tom Watkins, who started the brand alongside his brother Nick in 2019.
"Those are the three things this investment is going to be used for," Tom Watkins told The Grocer. "Marketing is fundamental, there is a lot to do on educating consumers on pea milk and its benefits, which is one of our biggest challenges."
Mighty Pea's entire range is free from dairy, nuts, soy and refined sugar, with every glass containing 8g of plant protein and 50% more calcium than cows milk.
The products are currently available in Sainsbury's, Marks & Spencer and Holland & Barrett, but the company expects store numbers to triple by the start of 2021, through both domestic and international expansion starting with Ireland, the Netherlands and Germany.
Sales in the first half of 2020 were up by 300% year on year. The coronavirus crisis affected parts of Mighty Pea's business, with the original "hero" SKUs maintaining steady sales but volumes of a new Barista blend – launched in foodservice in February – and convenience RTD lattes taking a "bit of a hit", Tom Watkins said.
However, the crisis forced the company to "push ahead" with its DTC expansion through both its own web store and Amazon.
Co-founder Nick Watkins explained: "In some ways it made us start looking at new trade channels in order to meet our customers where they are.
"We are also looking at a number of launches within the EU towards the back end of 2020, which is going to require careful planning and feet on the ground in those territories."
Innovative NPD, designed to disrupt the dairy alternative category, is also scheduled to launch in the coming months.
In November 2019, Mighty Pea smashed its £300k crowdfunding target within less than a week, to raise a total of £450k, to extend its range and venture into the convenience and foodservice sectors.