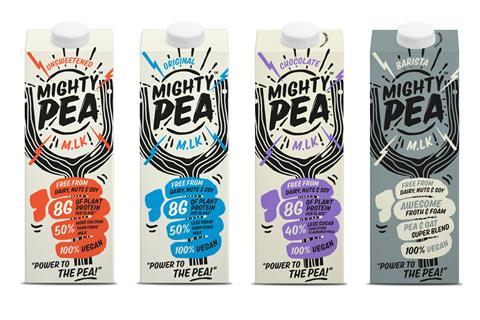 Pea-based milk alternative producer Mighty Pea has smashed its crowdfunding target within less than a week, as it prepares to extend its range and venture into the convenience and foodservice sectors.
The company, which makes a dairy-free alternative to milk from yellow split peas, has so far raised £327k on Seedrs in exchange of a 7.56% stake – valuing the brand at around £4m.
The original target was set at £300k, with the business now "prepared to see how far the campaign will go", said co-founder Nick Watkins, who started the brand alongside his brother Tom.
"We are absolutely thrilled for the campaign's success," Nick Watkins told The Grocer. "I think it speaks volumes to how consumers feel about dairy alternative milks these days.
"We have set ourselves to be the next generation of dairy alternative milk because, whilst fantastic brands like Oatly have been a real trailblazer in terms of raising awareness, consumers have become more aware of the additional nutritional benefits we deliver."
Mighty Pea's entire range is free-from dairy, nuts, soy and refined sugar, with every glass containing 8g of plant protein and 50% more calcium than cows milk.
Launched in April 2019 as The Mighty Society, the company's first two variants – original and unsweetened (rsp: £2) – have sold over 80,000 units so far, after securing listings in Sainsbury's, Marks & Spencer, Holland & Barrett and Whole Foods Market.
Having rebranded to Mighty Pea earlier this month, the brand will roll out three new 330ml formats – Iced Latte, Banana & Oat and Chocolate – into retail this week, as well as an oat & pea Barista blend, to hit both the retail and foodservice sectors in January.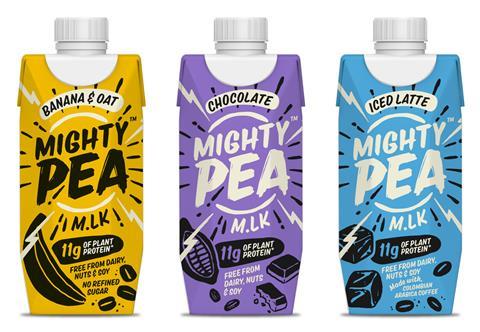 Most of the cash raised will go towards funding production of the extended range, as well as marketing activities including in-store sampling, and trade shows, research & development and logistics costs.
"Thankfully, we have been quite successful previously with The Mighty Society so we had enough liquid capital to get the production process for the new range underway before having all the money coming in from the crowdfunding," Nick Watkins added.
"Now, we have got so many more products and we are going to require more stock to go on shelves as our points of distribution increase throughout this year, so the majority of the funds is going to be used towards production costs."