In the midst of a boom in the plant-based market, every month feels like Veganuary. Here we count down the latest launches for vegans, vegetarians and flexitarians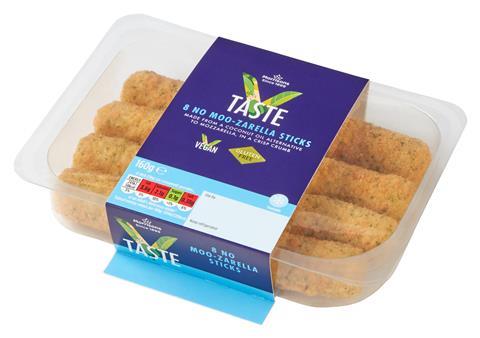 V-Taste No Moo-zarella Sticks
Morrisons has launched a vegan alternative to mozzarella dippers in response to research finding cheese was the food vegans most missed.
Its V-Taste No Moo-zarella sticks went on sale earlier this week at £2.50 for a pack of eight. Its faux cheese is made with coconut oil, which is mixed with potato starch before being coated in a parsley breadcrumb.
"We know a lot of our vegan customers really miss cheese and that their options are often limited at family buffets, which is why we've taken this classic cheesy party food that everyone knows and loves and made it vegan," said Morrisons party food buyer, Oliver Smith.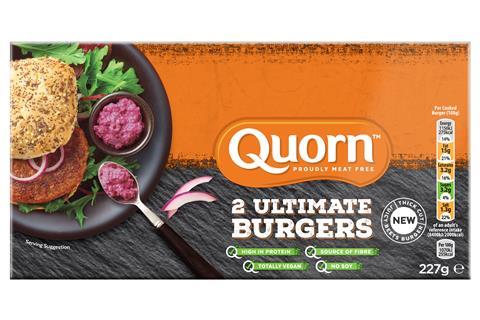 Quorn Ultimate Burgers
Quorn has added to the raft of meat-imitating burgers with the launch of its Ultimate Burger.
The vegan quarter pounders are infused with beetroot juice to create a "succulent" meaty texture, adding to its existing range of vegan and vegetarian burgers.
They will roll out in Tesco from mid-April followed by Asda and Sainsbury's in early June (rsp: £2.99/227g).
"We're now seeing the majority of the UK, 52%, reduce meat [YouGov, December 2018]," said Quorn marketing director Alex Glen. "With this launch, we believe we can drive penetration of the meat-free category, by appealing to meat reducers, vegetarians and vegans alike with an innovative product that truly delivers on key attributes of taste, texture and appearance."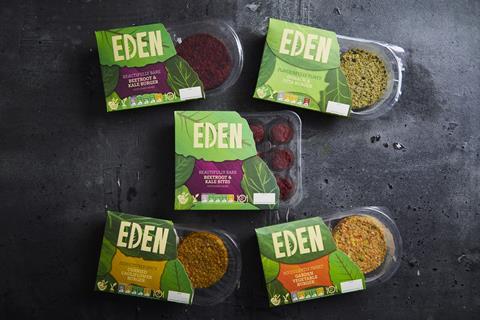 Eden
Irish butcher brand Loughnane's is set to launch its vegetarian and vegan food brand Eden into Sainsbury's next month.
The brand's four-strong lineup will feature vegan curried cauliflower burgers and bites, soy-based sausages and spinach & feta burgers due to go on sale from 15 May (rsp: £2.50-£3).
It has designed the products to steam rather than fry to make the range as healthy as possible, and "lock in nourishment and juicy flavour", said Loughnane's.
All its products are produced in Ireland, with "100% natural and wholesome ingredients".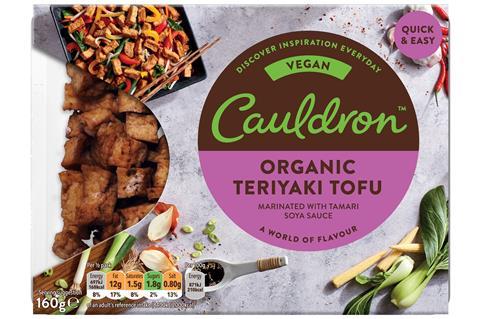 Cauldron tofu
Cauldron has added two "flavoursome" new variants of its organic tofu.
Available in Morrisons this month and Sainsbury's from May, its expanded lineup will feature beechwood-smoked and teriyaki tofu pieces (rsp: £2.50/260g). The latter are marinated in tamari and soy sauce, which Cauldron said lent a "sweetness that's perfect for stir fries".
"The tofu sector in the UK is worth £17.8m, up 27% on last year according to IRI," said Cauldron brand manager Andrea Harburn. "It's attracting younger, more affluent shoppers to the meat-free category, including family and pre-family consumers who are the future of the category."
The brand is set to back the new SKUs with a £500k marketing spend to include social media activity, YouTube advertising and consumer PR.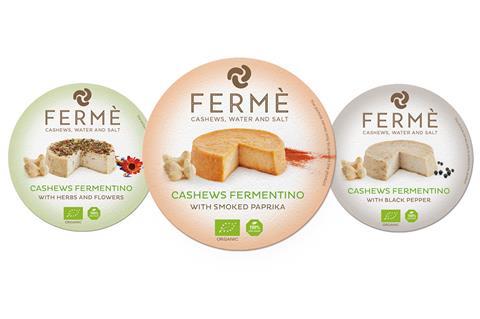 Fermè
Italian cheese alternative brand Fermè has made its UK debut in Whole Foods Market.
The Original Fermè products are made with three ingredients: fermented cashews, water and salt. Its semi-aged block range (rsp: £5.99) features four SKUs in Original, Black Pepper, Paprika and Herbs & Flowers flavours. Its spreadable lines (rsp: £3.99) come in Original, Chive and Pepper & Basil variants.
The brand uses the 'fermentino' method, coined by Italian raw chef Daniela Cicioni, in which products are made by fermenting nuts and oilseeds and adding only water and a pinch of salt.
Fermentino was "Italian gastronomic tradition's answer to the growing demand for natural foods of vegetable origin", said a spokeswoman for Fermè.
"With the trend for plant-based eating showing no signs of slowing down, the time was right to introduce UK consumers to a natural plant-based product, which is healthy, delicious and only contains three ingredients," she added.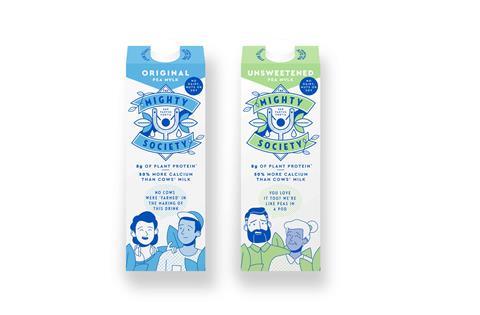 Mighty Society pea milk
Mighty Society is one of two pea-based milk alternatives in this roundup. The brand is due to roll Original and Unsweetened variants of its product into Whole Foods this month.
Founded by brothers Nick and Tom Watkins, it has also picked up listings for the brand with Sainsbury's.
Its drinks are made with yellow split peas and claim to contain 50% more calcium than cow's milk. The brand also produces vanilla and chocolate flavours, which could join its lineup in future.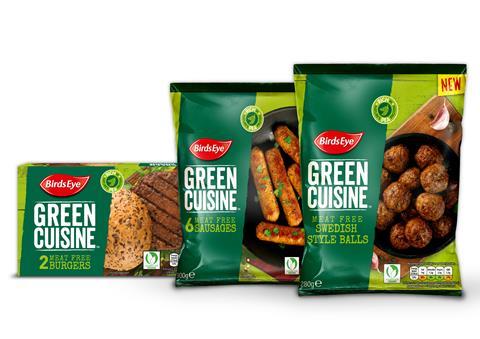 Birds Eye Green Cuisine
Birds Eye has hitched its wagon to the plant-based trend with its first foray into vegan meat alternatives.
The frozen stalwart launched its new Green Cuisine range with sausages (280g), burgers (200g) and 'Swedish-style balls' (300g) in Asda from 21 March, each with an rsp of £2.50.
The pea-based products are soy and wheat-free and would "build on the brand's heritage in peas", it said. However, its vegan range is made with yellow peas as a base, rather than the petit pois and garden peas Birds Eye is known for in the frozen fixture.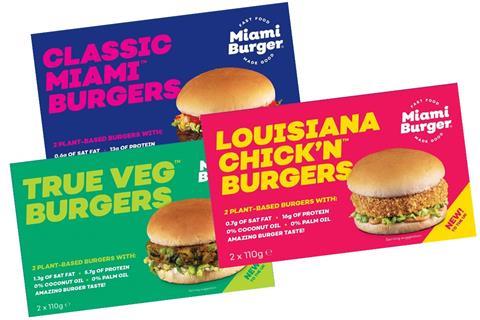 Miami Burger
Vegan fast food joint Miami Burger is bringing its restaurant range of burgers, condiments and sides to retail this summer.
The brand, which opened its first restaurant in Reading at the beginning of the year, said it had secured an exclusive listing with one of the big four retailers and would hit freezers in July.
Its Louisiana Chick'n Burgers, made with wheat protein, the soy-based Classic Miami Burgers and True Veg Burgers will become the first of its products to go on sale in around 300 stores nationwide (rsp: £3.29). Miami has already enlisted a manufacturer in France to produce its burgers for the retail market.
It has plans to add lines including 'ultra-healthy' vegan coleslaw, mayo and macaroni cheese.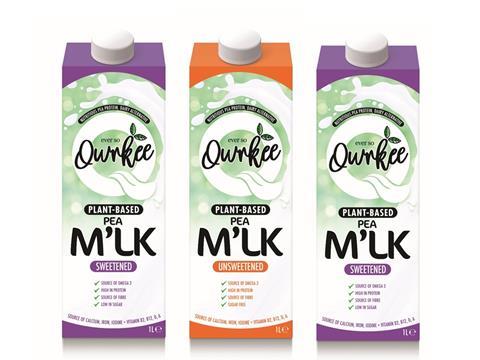 Qwrkee pea milk
New plant-based food and drink brand Qwrkee has secured its first retail listing in Whole Foods Market.
It comes as Whole Foods' UK grocery buyer Miguel Uribe tipped pea milks as one of the "top new trends for 2019".
The brand's dairy alternatives went on sale in Sweetened and Unsweetened variants (rsp: £3/1l). They are fortified with calcium, iron, iodine and phosphorous in addition to vitamins B2, B12, D and A.
Qwrkee's pea milk used one gallon of water to make 250ml of its product, in comparison to 60 gallons for dairy milk, and produced less than 10% of the CO2, according to research by the University of Twente in the Netherlands.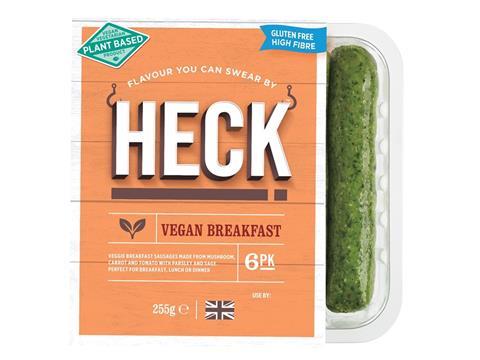 Heck veggie sausage
Heck is making full use of its expanded meat-free capacity, with the launch of two new vegan sausage variants.
A chickpea, roasted tomato, mushroom, carrot, parsley, sage and black pepper sausage named the Vegan Breakfast is due to go on sale in Sainsbury's in May (rsp: £2.50).
The brand is also set to roll out a Smokin' Veggie sausage with red pepper, paprika, wild rice, mushroom and tomato later in the year.