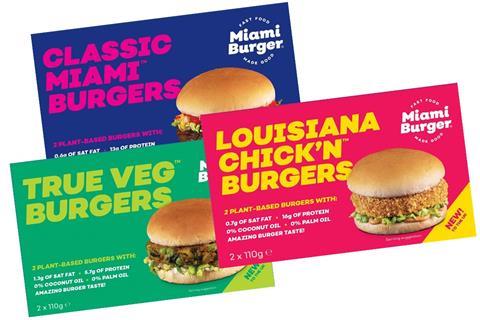 Vegan fast food joint Miami Burger is bringing its restaurant range of burgers, condiments and sides to retail this summer.
The brand, which opened its first restaurant in Reading at the beginning of the year, said it had secured an exclusive listing with one of the big four retailers and would hit freezers in July.
Its Louisiana Chick'n Burgers, made with wheat protein, the soy-based Classic Miami Burgers and True Veg Burgers will become the first of its products to go on sale in around 300 stores nationwide (rsp: £3.29). Miami has already enlisted a manufacturer in France to produce its burgers for the retail market.
It has plans to add lines including 'ultra-healthy' vegan coleslaw, mayo and macaroni cheese later on.
The launches would tap the trend for plant-based and healthy eating habits, as well as bringing restaurant brands into the grocery aisle, said founder Tom Bursnall. His previous business experience includes fmcg recruitment and care home management.
Miami Burger's USP was making fast food as healthy as possible, he added. Its Miami Burger contains 0.6g of saturated fat, in comparison to 3.8g claimed by the Beyond Burger and 3.7g in the Meatless Farm Co's burger.
The brand's marketing would make much of its palm oil and coconut oil-free credentials, calling out competitors whose products do feature the oils, Bursnall told The Grocer. His Miami Burger restaurant has taken a similar approach, openly contrasting the fat content of its menu to fast food giants Burger King, McDonald's and KFC.
"When the manufacturer came back with a product made with sunflower oil, we asked if they could replace that with rapeseed oil, and when they did we asked if they could make it with even less," said Bursnall.
"We think the nature of consumption in fast food will be very different in 20 years' time, with significantly less saturated fat and sugar, less plastic, and less animal. No one is doing any of this so we thought we would."