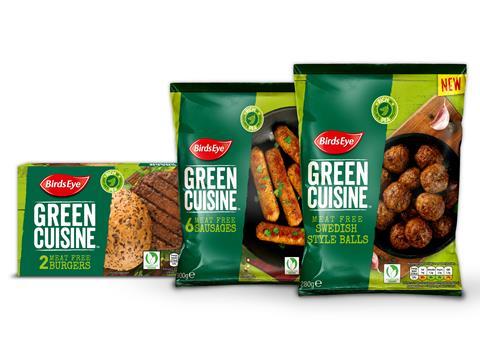 Birds Eye is set to take on the likes of Quorn and the Beyond Burger with its first foray into vegan meat alternatives.
The frozen stalwart will roll out its new Green Cuisine range with sausages (280g), burgers (200g) and 'Swedish-style balls' (300g) in Asda from 21 March, each with an rsp of £2.50.
The products, also soy and wheat-free, come amid a boom in meat-free mealtimes, which soared to 4.8 billion in 2018, representing 30% of all evening meals, according to Kantar UK. The figure was up 37% on the previous year, while 92% of plant-based meals were eaten by non-vegans.
Like the Beyond Burger, Birds Eye's new range is made with pea protein as its primary ingredient, in a move the brand said would build on its heritage in peas. However, its vegan range is made with yellow peas as a base, rather than the petit pois and garden peas Birds Eye is known for in the frozen fixture.
The brand said it had set out to replicate its accessible family dinner staples with the Green Cuisine line up, manufactured at its factory in Spain.
It has also achieved lower levels of fat than corresponding Birds Eye staples, with a baked Green Cuisine burger containing 17g of fat and 1.4g of satfat, compared with 19g of fat and 6.5g of satfat in a 114g Birds Eye original beef quarter pounder when grilled.
Birds Eye's mass consumer appeal had the potential to accelerate growth in the segment as it moved into the mainstream, said marketing director, Steve Challouma. "This is a major strategic launch into an increasingly important and fast growing segment within the plant-based foods space," he said.
"We have successfully been able to recreate the taste and texture of popular meat products, helping families reduce their meat consumption through healthy options without compromising on flavour."
The move comes six months after Birds Eye launched its single serve Veggie Bowls last year, having identified vegetarian and vegan meals as the saviour of the frozen ready meal category.