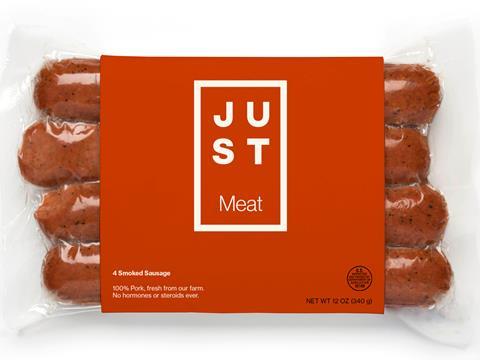 British companies should invest in becoming world leaders in the development of the lab-grown meat industry. That was the warning by think tank the Adam Smith Institute in a new report last week.

The report, titled 'Don't have a cow man: The prospects for lab-grown meat' suggested cultured meats were on the cusp of becoming a multibillion-pound industry as the cost of production neared the reach of the general public.

The cost of manufacturing a clean meat burger patty fell to about £8 each this year, found the ASI, down from an estimated £215,000 in 2013. Production used between 78% and 96% less greenhouse gas emissions, and 99% less land than traditional livestock farming.

Cultured meats, made by growing stem cells from donor animals, had the potential to solve the "looming antibiotic resistance crisis" as there was no need to use antibiotics across the lifespan of livestock, the report claimed. Meanwhile, production under sterile conditions could also lower the risk of infection transmitted from animals to humans and associated costs after the FSA found campylobacter cost the economy more than £900m in 2017.

The scalability of the lab meat model - which could see 10 animal cells produce up to 50 tonnes of meat - had the potential to end world hunger and even culture meats from exotic or extinct species such as the woolly mammoth or dodo, the ASI said.
So would Brits actually be up for a lab-grown carvery, and who could make it happen?

Exclusive research commissioned by The Grocer in October 2016 suggested the majority of Brits were not receptive to the concept of lab-grown meats. Just 16% of the 2,082 surveyed by Harris Interactive were open to tasting cultured meats, though men were significantly more interested than women: nearly a quarter of male respondents were willing to taste it, compared with less than 10% of women.

More than half of those questioned admitted they were put off by concerns around which chemicals or ingredients clean meats would contain. Some 49% were worried about "possible long-term side effects" of consuming such meat, while 29% of all respondents insisted nothing could convince them to try cultured meats.

However, public opinion appears to be on the move. A survey of 2,000 Brits conducted by Starcom less than 18 months later, in February of this year, showed 42% of respondents would be willing to try lab meat or fish if prepared in a restaurant, though fewer would eat cultured meat if prepared by a fast food outlet.
The shift came just in time for US-based Just (formerly known as Hampton Creek) to lay down the gauntlet, stating its aim to have its first commercial lab meat product on sale by the end of the year. Meanwhile, poultry giant Tyson branched into alternative proteins with investment in plant-based Beyond Meat and cultured Memphis Meat. Dutch clean meat startup Mosa Meat last month secured $8.8m from investors including Swiss meat titan Bell Food Group, It is targeting the commercial debut of its cultured meat products by 2021.

The idea hasn't been popular with some. The USDA is currently considering legislation that could prohibit suppliers from labelling clean meats with meaty terms, after the state of Missouri became the first to enact similar legislation earlier this week despite an eleventh hour suit filed by Tofurky, the Animal Legal Defense Fund and others seeking an injunction against the bill.

Meanwhile, the US Cattlemen's Association filed a petition to government over the legal definition of terms such as 'meat' and 'beef'. And trade body Beef + Lamb New Zealand sent out a warning to producers that clean meat alternatives could pose a threat to the industry within five to 10 years.

Regardless, UK companies have been slow to latch on. Despite the flurry of activity across the pond and European interests spawning Mosa Meat and German poultry supplier PHW's investment in Israeli startup SuperMeat, large UK businesses are yet to publicise any involvement in the cultured meat movement.

Should the UK implement the framework suggested by the ASI, it would see government restructure business taxes to maximise the sector's appeal for startups and do more to promote research that could propel the cultured meat industry to new heights. It should consider expediting the acquisition of visas for those already experienced in the field and liaise with industry to award prizes for major breakthroughs, the report concluded.

It highlights a gaping hole in disconnect between the UK's vision for the future of meat and that of the rest of the world - or a sizeable opportunity if government and industry can wise up before we're left behind.