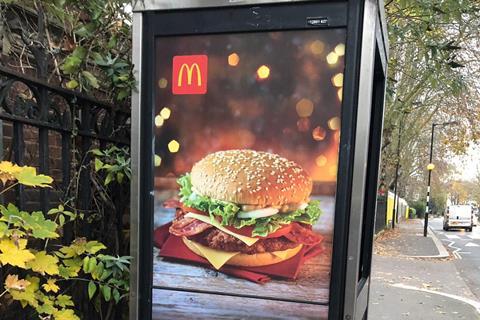 Health campaigners have called for fines for food companies that break the rules on junk food advertising to kids.
It comes after the Advertising Standards Authority found that burger giant McDonald's had breached rules meant to protect children from unhealthy food marketing following a complaint from the Children's Food Campaign.
The regulator restricts advertising of products that are high in fat, salt and/or sugar within 100 metres of schools.
However, a poster for McDonald's Big Tasty with Bacon burger, seen on a phone box close to a secondary school on 22 November 2019, featured an image of the product with the McDonald's logo.
The Children's Food Campaign challenged whether the ad was directed at children.
McDonald's claimed that because it was a new school, it had not appeared on the advertisers' blacklist. The ASA agreed to close the case after it was confirmed the school had been added to the blacklist to prevent future HFSS adverts from being displayed there, and the advert had been removed.
However, the Children's Food Campaign claimed the advertisement was still in place outside the school six weeks after the initial complaint was raised.
Campaigners said that without a penalty system, there were no repercussions for companies that didn't play by the rules.
"Without the power to levy fines or other penalties, the ASA has no teeth and as a result we are seeing companies break the rules time and time again," said Children's Food Campaign co-ordinator Fran Bernhardt.
"We call for the ASA to have and use powers to levy fines on companies whose advertisement breaks the rules."
A spokesman for the ASA said: "We consider the matter resolved and have closed the case informally."