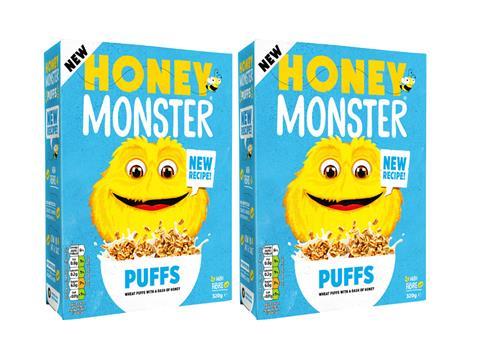 Honey Monster Puffs is to be relaunched with a fresh look, a new variant and 25% less sugar – more than a year after previous owner Raisio announced the reformulation and mooted NPD.
The planned moves were put on hold during the sale of the Honey Monster Puffs licence to Brecks Food, which secured the rights in July to make, market and distribute the 60-year-old cereal brand.
Get the latest data on cereals in our 2017 category report
Brecks "took a step back" before going ahead with changes, said Gary Lewis, managing director of brands. The cereal was "iconic", he added, but the business' branded arm, Monster Brands, wanted to make it and the monster character "more relevant" – which included a plan for "vibrant" packaging.
The revamped Honey Monster Puffs will roll out from the end of March in 320g, 450g and 626g packs, with sugar cut by a quarter from 29g per 100g to 22g, as had been intended by Raisio. This means the cereal has an amber traffic light for sugar and now contains less than half the amount of Sugar Puffs, which was rebranded and reformulated by Raisio in 2014.
The puffed-wheat product will be joined on shelf by an oat variant as an "alternative to porridge" with a similar sugar level, said Lewis. "Our brand value with Honey Monster is to never go higher than amber on sugar."
Packaging has greater emphasis on the product image, with a more 'cartoonish' monster and a revised logo.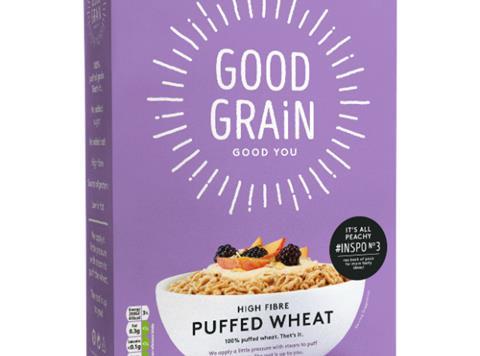 The overhauled family-focused cereal is set to be joined on shelf by a revamped Good Grain – also acquired last year by Brecks from Raisio. The brand has two extra variants, Multi-Grain and Multi-Grain Cherry, which join the original puffed-wheat option in boxes designed to offer clear health messaging and Instagram-friendly serving suggestions.
Both relaunches will be supported by social media campaigns and updated websites.