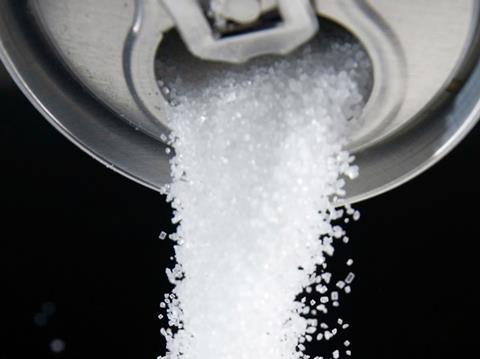 Soft drinks have been demonised by anti-sugar campaigners, but figures compiled for The Grocer show a sharp decrease in the contribution they are making to sugar consumption in the UK.
Kantar Worldpanel figures show soft drinks contributed nearly 4,396,000 fewer KGs of sugar to baskets in the year ending May 2014 compared to the same period in 2010, a fall of 1.7% – despite a 4.6% rise in take-home soft drink volumes over the period.
As a result, soft drinks have gone from accounting for 8.1% of take-home sugar in the shopping basket in 2010 to 7% – well below categories such as fruit, veg, salad, dairy and confectionery, said Kantar.
Dilutable drinks saw the biggest fall in sugar contribution, down 21% over the four-year period, compared with a 3.4% fall in sales volumes.
Though the amount of sugar in take-home fizzy drinks was up by 0.3%, volumes rose by more than 4% in the period, and the average amount of sugar in fizzy drinks fell 2.5% in the past year, from 4g a year ago to 3.9g/100ml.
There have also been considerable falls in the average calorie density of fizzy drinks, with the average drink containing 16.9 kcals per 100ml, compared with a five-year peak of 17.8 kcals in May 2012.
"It's quite remarkable to see such a shift," said Cathy Capelin, strategic insight director, nutrition, at Kantar. "You just don't see market movements like this very often and it would appear to show real evidence that the industry's reformulation efforts are working."
The figures come as the Scientific Advisory Committee on Nutrition committee winds up its consultation on draft proposals on carbohydrates – which include calls for new measures to minimise sugar intake from fizzy drinks and fruit juice – on 1 September.
"This significant shift shows that industry efforts to increase the range of low and no calorie drinks available are having an impact," said Gavin Partington, director general of the British Soft Drinks Association.
However, as the Department of Health considers potential further action on sugar, soft drinks are first in the firing line. Public Health England used the latest data from the National Diet and Nutrition Survey, which covers the period 2008/9 to 2012, to support draft proposals including a possible sugar tax.
The survey found soft drinks were the largest source of sugar intake (nearly a third) for teenagers, and were also the number-one source for younger children and in the top two – alongside table sugar and preserves – for adults.