New launches are trying to cut the landfill load, but they're pricey
The oral care category has a serious sustainability problem: 300 million toothpaste tubes go to landfill a year, which will take approximately 500 years to biodegrade, according to the British Dental Journal.
Now suppliers are finally beginning to tackle the issue head-on, including a slew of launches promising to lighten the environmental load, from greener packaging materials and refillable containers that eradicate the need for tubes altogether, to new sustainable ingredients.
So who's doing what? And why has it taken so long to get cracking?
The biggest issue is the packaging. Traditional toothpaste tubes are notoriously difficult to recycle as they commonly contain layers of different plastics, along with aluminium.
It's something brands big and small are now attempting to address.
January saw GlaxoSmithKline unveil Aquafresh Naturals, a range of toothpastes using "natural ingredients", in tubes made of recyclable high-density polyethylene (HDPE) plastic.
Unilever unveiled plans to launch HDPE tubes in France and India last year, and aims to expand distribution across Europe this year. It intends to move its global toothpaste portfolio to recyclable tubes by 2025.
Colgate-Palmolive has set the same deadline for making 100% of its packaging recyclable. Having partnered with TerraCycle in the UK since 2018, Colgate rolled out its first ever recyclable HDPE tubes made from high-density polyethylene (HDPE) in 2020 – also suitable for kerbside recycling.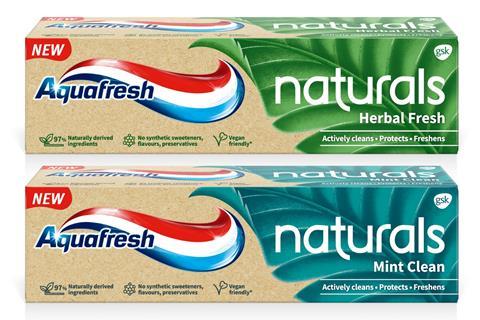 However, while HDPE is recyclable, local authorities may not recycle HDPE toothpaste tubes, says Wrap. To syphon off detritus, the commonly used sorting machines contain 50mm-diameter holes – which the tubes can slip through.
"The organisations mentioned have done some fantastic work to make the pack itself technically recyclable," says a Wrap spokeswoman. "However, the items are too small and will, in most cases, be removed." It's an issue for toothpaste tubes regardless of material, she says.
A GSK spokesman acknowledges "the recyclability of products at kerbside is dependent upon the facilities at local centres".
"This a challenge the whole oral healthcare industry faces as suppliers develop recyclable packaging," he adds.
A Unilever spokeswoman says it is "working with recycling organisations in markets to help ensure that the new tubes are collected and recycled".
"For example, in France consumers will be able to put the tubes in their home recycling bin ready to be collected and turned into new products."
Alternative packs
Meanwhile a new breed of oral care brands is reducing or eliminating plastic, and even the problematic tubes.
Waken and Happier Beauty offer toothpaste in aluminium squeeze tubes, and the latter plans to launch a SodaStream-style refillable toothpaste dispenser, made of aluminium and 50% recycled plastic, this spring. It will be topped up from claimed biodegradable refill capsules sold via subscription.
Then there are toothpaste tablets, offered by Waken and Hello. As they are waterless, they require minimal packaging and offer a mess-free solution for travellers – they are simply chewed to form a paste before brushing.
But cost is an issue for innovation for such solutions. Aluminium tubes are "10 to 20 times more expensive" than plastic ones and it can be "difficult to find suppliers", says Happier Beauty CEO Faye Wilson.
That means higher retail prices: A 75ml aluminium tube from Happier Beauty costs £12. Its dispenser will cost £10, and refills £5.
Read more:
Waken's 75ml tubes are priced more competitively at £4 each - but are still considerably more than most plastic tubes. Waken has already found cost a barrier to introducing an aluminium mouthwash bottle too. As well as expensive, it was prone to dents, says founder Simon Duffy. It took the "difficult decision" to use plastic, meaning a price of £4.50 instead of £8.
With tablets, too, cost is an issue. A month's supply of 60 tablets costs £5 from Waken or £7.99 from Hello.
Duffy acknowledges high prices can be "a barrier for consumers" but believes it can be overcome with scale.
"For a small business that's bootstrapped, it's been really hard to get the pricing right," says Wilson. "I constantly try and take our customers feedback on board to make sure the product evolves and iterates their feedback."
In fairness, none of these prices are exactly bank-breaking, but with big players launching 'sustainable' options significantly cheaper (a tube of Aquafresh Naturals costs £1.50, for instance), shoppers may need some convincing to trade up for a more 'sustainable' option.
"When dealing with newer technologies and materials, there can be additional expense"
But Wilson says interest in its product from retailers has been strong since Happier Beauty announced the pending launch. And one only needs look to the rampant success of SodaStream to see how quickly a sustainable challenger can make headway in a category where waste is rife.
Whether any of these new formats can unseat traditional tubes remains to be seen. But the message is clear: the race to shake up toothpaste is well and truly on. "When dealing with newer technologies and materials, there can be additional expense," he says. But "if you can deliver high-quality and more sustainable products at affordable prices, you stand a good chance of making a bigger difference".
"I believe Waken can play this role in the UK dental market by launching more sustainable products at prices that are generally affordable," he adds.
Toothpaste has begun plotting its path to greater sustainability – but it's barely begun.