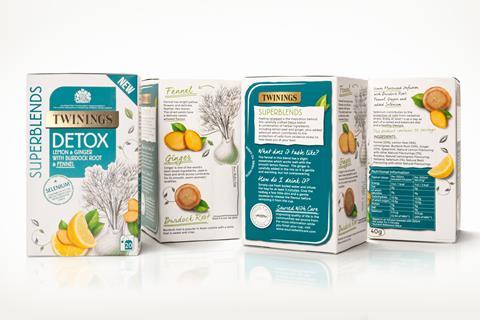 Twinings has overtaken PG Tips to become the nation's bestselling tea brand.

Diversifying into areas such as cold infusions and functional teas has paid off for Twinings, which gained nearly £4m. Meanwhile, PG Tips slumped below the £100m mark as it bore the brunt of the black tea decline.

Twinings rose 3.9% to £107.9m in the year to 13 July 2019, according to Nielsen data. In the same period, PG Tips suffered a gruelling 7.2% fall in value to £98.7m - although this doesn't include sales from the discounters.

The difference in fortune was largely down to the brand portfolios, said Nielsen senior client analytics executives Robin Tahiri and Tom Newman.
They singled out Twinings Superblends and its Cold In'fuse product - the market's first cold infusions line, launched last April - as particular drivers of growth.

Together, both products generated £10.5m, which was more than enough to offset the £6.8m decline in the core Twinings portfolio. They also recruited an extra 2.1 million shoppers to the brand.

PG Tips also saw some growth from its innovations, Perfect with Dairy Free and PG Tips 2 Go. However, Nielsen said this was not enough to mitigate the decline in its core black tea range.