Since 2008, the number of post offices in the UK has dropped 14% to 11,696. It's a political issue, routinely raised in Parliament as evidence of social isolation and cost cutting.
But the Post Office is changing. With just 350 post offices run by the Post Office itself, that means 97% are run privately - often by retailers in convenience stores. Blighted by years of underinvestment, the continued decline in the amount of mail being sent, and the decision to pay benefits and pensions straight into accounts, the post office is having to modernise and expand the services it offers to keep up with the competition.
So what does the modernisation programme involve? Is the time right to invest? And if so how can retailers make it work?
The Post Office is currently in the middle of a £2bn investment programme from the government, to update its branches.
By the time it's complete in March 2018, up to 8,000 post offices will have been modernised under two different formats - 'main' post offices with two or more dedicated counters, and 'Post Office Local', where the post office is run from the till of the store it is situated in.
top tips
Study your store's footprint - does it have room for a main Post Office format? Or do you want to keep all services together behind one till?
Consider your staff - do they have the skills and availability to carry out both retail and Post Office transactions?
Speak to the Post Office, the National Federation of Subpostmasters or other c-store operators about what's involved and whether a Post Office would work in your store.
The good news for retailers is that as part of this programme, there is funding available for retailers to take on a post office, and for the Post Office to make a financial contribution towards the installation of equipment in certain circumstances. The cost of introducing post office services in a store will vary depending on the size of the branch and what format is introduced.
Retailers first need to decide whether a 'main' or 'Local' format is best for their store.
The 'main' format means the Post Office has its own area and counter in the store. It usually has different opening hours to the rest of the store and can offer the full range of Post Office services.
Post Office Local, meanwhile, is operated from the store's own till. The advantage of this approach is it does not take up shop space and has the same opening hours as the c-store, including Sunday openings.
Queue times reduced
"The Local model in particular is most profitable when the retail and Post Office functions can be combined using the same staff," says a spokeswoman for the National Federation of Subpostmasters.
"The key to success is to create the right environment and product mix to take full advantage of the opportunity"
Locals also cut down queues, she adds. "The longer opening hours available in a c-store enables customer visits to be spread over a much longer period of time, thereby reducing waiting times." According to the Post Office, queue times at Local branches are about one minute.
One retailer currently working with the Post Office on the modernisation programme is McColl's Retail Group. It operates more than 400 post offices and after converting a number to the new formats in 2013, in February it entered into an agreement with the Post Office to convert 191 stores to Locals.
Last month, McColl's celebrated the opening of its 250th converted post office since 2013 - in West Horndon, Essex.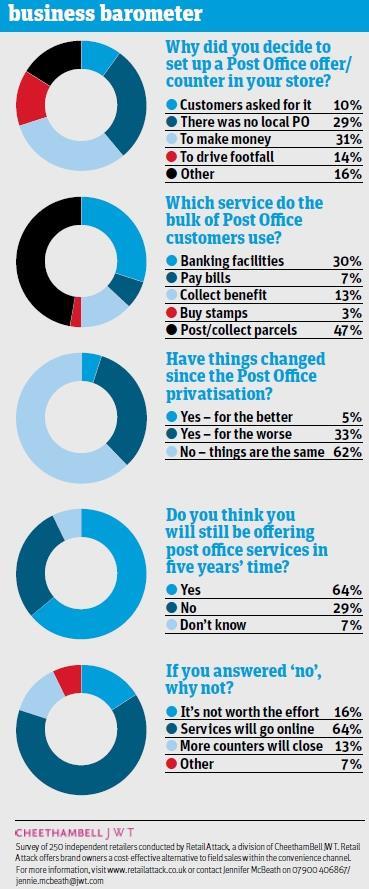 McColl's chief operating officer Dave Thomas says customer feedback from previous conversions has been "incredibly positive" with customer satisfaction scores consistently over 95%. And the West Horndon conversion means post office services will be open an extra 3,250 hours a year.
"The new-look store in West Horndon will provide essential post office services to the local community in a more flexible way than ever before and by combining this with our extensive convenience store offer, we can give customers what they want, when they want it."
Double bubble
It's also possible to operate the two different formats from the same shop. Shelley Goal runs a One Stop franchise store in Acocks Green, Birmingham. Instead of choosing between main and Local, he went for both and has seen an increase in footfall and sales.
"It complements everything else we offer in the store, so one really feeds off the other," he says. "People want local services, so appreciate being able to use a post office round the corner from where they live rather than having to drive."
The complementary advantages of offering Post Office services are backed up by recent research from Him! According to Him! shoppers that use post offices in c-stores spend £6.51 on shop items - higher than the average c-store spend of £6.13. The Post Office says this is because Post Office users will withdraw cash and then spend it in store.
"This affords the c-store owner the chance to increase spend," says a spokeswoman. "The key to success is to create the right environment and product mix to take full advantage of the opportunity."
However, getting approval to set up a Post Office can be a lengthy process - about nine months from application.
"The application process includes the submission of a detailed business plan; and attending an interview, at which applicants will need to demonstrate their business acumen and ability and genuine desire to deliver Post Office services to their community to the highest standards of integrity and customer service," the NFSP spokeswoman explains.
"Operators have responsibility for ensuring that all of the wide range of Post Office transactions are properly conducted, and that cash, stock, security and training procedures are maintained."
A lengthy process it may be, but the long-term benefits of transforming your store into a community hub are first-class.