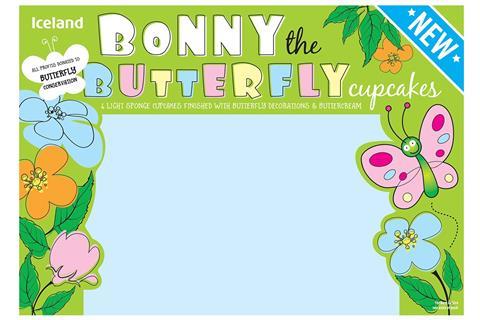 Iceland hopes to turn some of the furore over M&S and Aldi's caterpillar cakes into the promotion of biodiversity, with the launch of its variation on the theme.
The frozen food retailer is launching 'Bonny the Butterfly' cupcakes, with all profits to be donated to Butterfly Conservation, which works to reverse the decline in numbers of the insect species.
It comes after TV naturalist Chris Packham tweeted an open letter to supermarket bosses urging them to redesign cakes to represent a UK species of butterfly or moth larvae, and give 10% of profits to Butterfly Conservation.
Iceland's butterfly-themed sponge cakes are palm oil-free, in line with its commitment to remove the ingredient from all own label products by the end of 2018.
"We had previously removed our caterpillar cake from sale as it contained palm oil and had no plans to re-enter the caterpillar category, even when the #FreeCuthbert movement captured the nation's attention," said Iceland MD Richard Walker.
"However, when Chris called on supermarkets to use their cakes to raise awareness of the biodiversity crisis facing our planet, we had to get involved.
"I'm proud to say that our butterfly cakes will be completely palm oil-free, in line with our commitment, and we'll be supporting the important work of Butterfly Conservation by donating all proceeds from sales of this product."
Packham said: "It's fantastic that Iceland have seized this opportunity to come to the assistance of Britain's dwindling butterfly and moth populations, and of course their caterpillars.
"Iceland is a company that is striving to do great things environmentally in terms of plastic packaging, palm oil and by reducing their overall carbon footprint. And when it comes to consumers and their employees you couldn't find a more caring company. It's great that they've now shown that they also care about caterpillars."
Earlier this month, M&S launched a High Court trademark infringement claim against Aldi over the similarity of discounter's 'Cuthbert the Caterpillar' cake to its own 'Colin the Caterpillar'. A number of other supermarkets also make their own caterpillar character cakes.
Packham's open letter to major supermarket CEOs and MDs said: "How about I help your teams modify your cakes so they each, within reason and practicality, give a nod to a UK species of butterfly or moth larvae? Then you would all have a distinct 'species' of cake – there would be a diverse fauna of caterpillar confectionery across our supermarket shelves!"
🐛SPECIAL OFFER 🐛Due to the lack of action after my offer to our large supermarkets , I sent them all this letter . Surely on #EarthDay we can find a way to work together for our biodiversity ? @marksandspencer @waitrose @Tesco @sainsburys @asda @Morrisons @AldiUK pic.twitter.com/99ohcxfU9b

— Chris Packham (@ChrisGPackham) April 22, 2021
Butterfly Conservation CEO Julie Williams said: "We are absolutely delighted to learn that Iceland Foods will be donating the profits of these environmentally friendly butterfly cakes to the conservation of butterflies and moths in the UK.
"These amazing creatures are vital indicators of the health of our environment, supporting our birds and mammals, and the declines they face are worrying. This donation will help us continue our work to protect and conserve these creatures for future generations."
An Iceland spokeswoman added: "The new products will be flying into stores soon, so keep your eyes peeled."