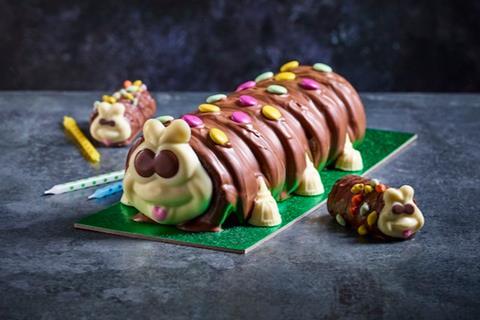 M&S is suing Aldi over the similarities of the discounter's Cuthbert the Caterpillar cake to its own Colin the Caterpillar.
M&S claims Cuthbert amounts to trademark infringement and is demanding Aldi remove the product from sale. The business filed its claim with the High Court yesterday (14 April).
It argues Cuthbert amounts to 'passing off' due to its "substantial similarity" with Colin, which it says could lead consumers to falsely believe the two products are sourced to the same standards.
"At M&S we are passionate about creating the highest-quality, most innovative food for our customers – whether that is 100% British sourced meat or iconic products like Colin the Caterpillar, Percy Pig and our glitter gin globe," said a spokesman.
"Because we know the M&S brand is special to our customers and they expect only the very best from us, love and care goes into every M&S product on our shelves. So we want protect Colin, Connie and our reputation for freshness, quality, innovation and value."
He said M&S had three trademarks relating to Colin, and believed the cake had acquired and retained an enhanced distinctive character and reputation.
Both products are log-shaped chocolate sponge cakes with a solid chocolate shell. M&S's Colin was launched in 1990, and has remained substantially unchanged since about 2004, according to the business. It costs £7 for a 625g cake, or £1.12 per 100g.
Cuthbert is £4.99, or 80p per 100g. The cake appeared today to already have been removed from Aldi's website, though it could still be seen on a page cached by Google. It has been on sale since 2019.
Aldi has not provided a comment.
It is not the first time copycat claims have been levelled at Aldi. In 2019, the discounter delisted its Moo Gourmet Yoghurt after Collective co-founder Amelia Harvey claimed the products looked too similar to the brand's own. That followed a similar row between sausage brand Heck and Aldi the previous year.
The disputes have not always come to an acrimonious conclusion. In August last year, BrewDog teased the retailer on Twitter over similarities between Aldi's 'Anti-Establishment' beer and the brand's Punk IPA. BrewDog's CEO James Watt said the brand would launch a new beer called 'BrewDog Aldi IPA' and send some to the supermarket. In October, the product was launched in Aldi stores.