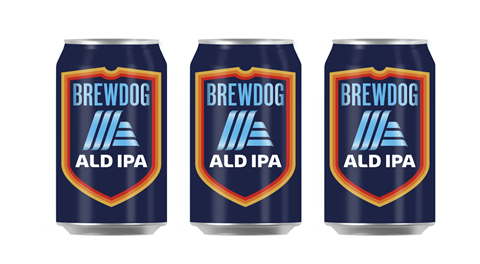 BrewDog has hit back at Aldi after the discounter launched a copycat of its bestselling Punk IPA – by teasing plans to launch its own Aldi-themed beer called 'Ald IPA'.
Aldi's new beer, called 'Anti Establishment IPA', rolled out in Scotland this week and was met with disbelief on social media for its play on the name of BrewDog's flagship beer.
It is understood Anti Establishment IPA was not brewed by BrewDog – some suppliers create their own copycats for the discounters.
BrewDog's CEO, James Watt, responded by posting an image of a new beer called 'Yaldi' mimicking the discounter's own brand.
"Maybe our friends Aldi UK will even sell it in their stores?" Watt wrote.
Aldi's Twitter account responded with "We would have gone with ALD IPA, send us a crate and we'll talk?", after which BrewDog revised its design accordingly.
Can't wait to taste it - might even clear some room in the middle aisle 😉 https://t.co/me2YKLNCU0

— Aldi Stores UK (@AldiUK) August 21, 2020
"The time to start worrying is when no one is copying you," Watt told The Grocer, confirming BrewDog's plans to genuinely bring it to market.
BrewDog has a chequered history when it comes to intellectual property: it has drawn criticism for both cracking down too hard on other businesses – it drew the ire of the public after its lawyers pressured an independent bar to change its name in 2017, though it apologised and made reparations – and has been accused of playing fast and loose with already existing branding.
It also fought a long legal battle with the estate of Elvis Presley over the name of its Elvis Juice ale. It initially lost the rights to use the name but won them back in 2018.