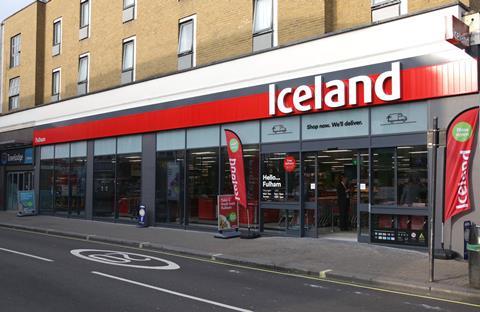 Losses at Iceland grew by a third to over £70m in its latest financial year, despite an increase in sales.
Losses after tax for the year ending 27 March 2020 were £71.8m, compared with £53.8m the previous year, according to new accounts at Companies House.
Meanwhile, sales rose from £3.08bn to £3.25bn.
The results include exceptional administrative expenses of £19.3m, up from £14.9m. EBITDA fell to £133.7m from £140.1m.
Net debt at the year end was £687.2m, down from £696.1 million.
Iceland's market share had grown in the pandemic as more people appreciated the advantages of frozen food, the results said. The frozen specialist's market share was 2.5% in the 12 weeks ending 14 June, according to Kantar, up from 2.1% the year before.
However, the business also bore Covid-related costs as it invested in social distancing measures, protective equipment and the recruitment of additional staff to cover for the self-isolating and boost online capacity.
There was also a £5m increase in environmental costs year on year due to the "soaring price of Package Waste Recovery Notes and cardboard recycling becoming a significant expense instead of a revenue generator".
"These impacts were exacerbated by a very sluggish Christmas trading period, affected by uncertainty caused by the general election and Brexit," the results said.
Sales benefited from a net 35 new stores, bringing the UK estate to 977. The openings included 31 new Food Warehouses, growing the estate of the larger-format stores to 121.
By end of the period, Iceland food outlets had also been rolled out to 47 branches of The Range, up from nine the previous year. Ten of the 47 Range stores also had an Iceland café serving the supermarket's products, the results said.
The opening of new warehouse capacity to feed estate growth had been postponed due to uncertainty arising from the pandemic.
"Our supply chain rose successfully to the huge challenges posed by Covid-19 towards the end of the year, keeping food and other essentials flowing to our stores supplied during a surge in demand unprecedented outside the well-planned Christmas peak," the results said.
"Our stores continued to be served by a network of multi-temperature regional distribution centres at Livingston, Warrington, Deeside, Enfield and Swindon. Additional warehouse capacity has been secured in Swindon to accommodate the planned growth of our business through store openings, though we took the decision to defer its opening until spring 2021 in the light of Covid-related uncertainties towards the end of the year."
In June this year, Iceland founder and executive chairman Malcolm Walker and CEO Tarsem Dhaliwal took full ownership of the business, buying investment firm Brait's 63% share for £115m.
Last week The Grocer revealed Nigel Broadhurst, joint MD alongside Richard Walker, had stepped down.