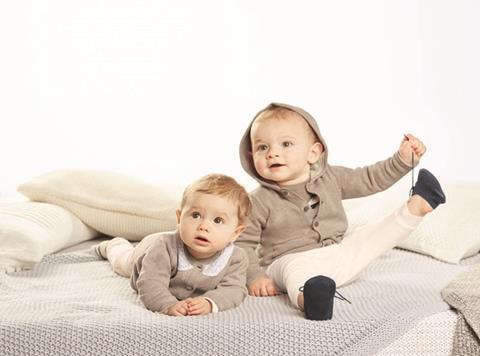 Lidl UK is upping its presence in the baby market with the launch of its first baby clothing collection featuring essential wear made from 100% organic cotton.

The range, under the own brand name of Lupilu, will be in all UK stores from 8 September, priced from £1.49.

Until now, Lidl has had a limited presence in the baby market, mainly selling nappies and baby wipes under the Toujours brand.

The Lupilu range will include tights, socks, babygrows, sleepsuits and cardigans, available for ages 0-24 months, and a swaddle blanket,

A cardigan and a pair of Lupilu baby shoes (made from leather) were the most expensive clothing items at £4.99, while a Lupilu duvet set will sell for £7.99.

The discounter said its Lupilu products were made to be kind to "even the most sensitive skin", to keep babies at the right temperature, and without chemical pesticides used in production.

"With little ones not staying little for long, it can be expensive for mums and dads to regularly replace clothing," a spokesman said.

"Lidl's new range means families can easily make savings without compromising on quality, while keeping up with the latest styles."

The spokesman added that the range was only available while stocks lasted. There were plans for further ranges in the future, although it could not say what these would include yet.

To coincide with the Lupilu collection, Lidl is also introducing a range of baby products for home and on-the-go.

These include a Hauck Sport SP Buggy and Nania I-Max Children's Car Seat, priced at £39.99 each, and toilet and potty seats, inspired by characters from movies Cars and Frozen, for £2.99. Other items include a portable bed rail, a high chair, a step stool and a safety gate.

In July The Grocer reported that Lidl had applied to register the trademark, Lidl'uns, in what appeared to be a move designed to rival Aldi's successful Mamia baby range.

The discounter said it would be testing its Lidl'uns in four UK regions from September, having filed a trademark application for the name in June.

The range, which is yet to appear, was thought to cover items such as powdered milk, nappies, baby shampoo and lotion.