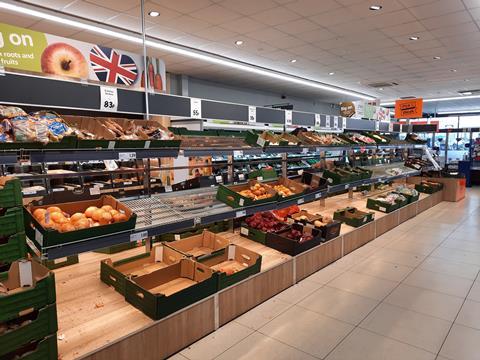 Hauliers are "boycotting" Lidl after the retailer refused to adapt its delivery process in response to the driver shortage.
A lack of drivers across the UK is forcing haulage companies to rationalise their supermarket deliveries, either by reducing frequency or, in some cases, axing customers altogether.
Lidl is particularly unpopular among haulage companies who claim there is now a "universal reluctance" to deliver to their sites.
"There's a bit of a boycott against delivering to Lidl because they're being inflexible and not listening to what's going on," said a director at one haulage company. "If you prioritise who you want to do and who you don't, then Lidl always falls at the bottom of the list."
Lidl has suffered empty shelves in recent weeks with fresh vegetables, bread, and toilet roll among products running short. Lidl said the gaps were due to "disruptions to supply chain networks".
But according to hauliers, while most retailers are working with primary distributors to ease deliveries from suppliers, Lidl is proving far less collaborative, maintaining policies such as rejecting lorries that turn up late at distribution centres.
A Lidl spokesman insisted it was working with suppliers to help alleviate the disruption to the supply chain. "Nevertheless, we are aware that there are still ongoing issues for some suppliers, and we are committed to working through these with them to help find suitable solutions."
The UK's three largest chilled hauliers – Fowler Welch, FreshLinc and Turners – have all cut deliveries to certain retailers in recent weeks. Smaller retailers like Booths and Spar are the worst hit, though Morrisons, Iceland, Waitrose, and Ocado have also been affected.
"We're no longer trying to be all things to all people," said one haulier. Instead, Fowler Welch, Fresh Linc and Turners are collaborating to try and consolidate their portfolios in a way that maximises geographical strengths and efficiency.
Morrisons and Iceland are widely seen by drivers to be particularlyproblematic though hauliers report they are now improving their delivery processes.
While most chilled DCs unload a lorry from a single loading bay, Morrisons often requires a driver to move between multiple bays, adding time and often delays to the process, according to another haulage director.
"A lot of people will be looking at Morrisons because practices at their RDCs are inefficient," they said. "They're also not as good at the paperwork as the other three big grocers."
Morrisons made changes at the end of last year that cut the time drivers spend at its sites, said a spokeswoman. This included an inbound scheduling system for fresh goods that addressed challenges such as bay door assignment and gave hauliers visibility of delivery slots up to 72 hours in advance.
"We are forgiving with late deliveries and accept more stock after it was due to be delivered," Morrisons added.
The chilled sector is under particular strain from a lack of drivers with new impacts continuing to emerge across the supply chain.
At British ports, fruit & vegetables arriving from Europe are being left to rot as there are insufficient drivers for collection. Brexit and Covid has resulted in an increase in unaccompanied freight coming across the sea without a driver, meaning a separate collection must be arranged upon arrival.
British drivers are reluctant to do so, however, as they must typically travel there with an empty lorry thereby reducing the profitability of the trip.
Horticultural suppliers are also suffering after hauliers opted to largely abandon flower and plants deliveries from the UK's biggest cold centre at Spalding in order to prioritise food.
But many food and drink suppliers are similarly unable to transport their goods to supermarkets at all. A recent survey of fmcg suppliers by Customer Supply Group found some suppliers are unable to deliver around 100 loads to supermarkets each week.
It has resulted in a return to the type of collaboration between supermarkets and suppliers first seen during the peak of the pandemic last year, said Jonathan Kittow, director at Simply Supply Chain, with most supermarkets now taking steps such as extending lead-times and reducing delivery frequency. Although this increases their stock levels and entails greater costs, "they just want to make sure they have the stock," said Kittow.
However not all relations are running entirely smoothly. Sainsbury's and Tesco are among those to have written to suppliers this month about an additional surcharge on primary distribution rates. Tesco's lack of prior communication angered suppliers, while a lack of time from others gave insufficient time to find alternative transport, according to Ged Futter, director of consultancy The Retail Mind.