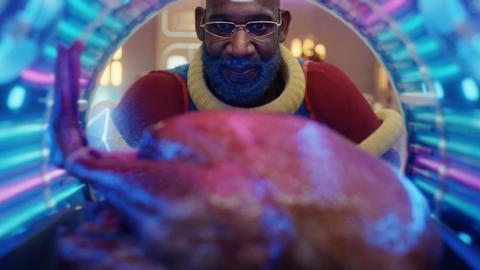 Lidl has become the latest retailer to unveil its Christmas advert.
The discounter's ad depicts Christmas dinner in the present day and in a various futuristic universes, where the Chrsitmas turkey is carved by lasers and living on the moon is the equivalent of moving to Spain, in a nod to its commitment to "always" maintain low prices.
Viewers are also treated to a preview of Lidl's new 2021 Christmas jumper, which is worn by one of the characters throughout the two-minute film.
The ad will air for the first time during ITV's Coronation Street commercial break tonight (5 November).
"After a challenging couple of years, the nation wants to look forward, not back, which is why we've set our light-hearted ad decades in the future," said Lidl marketing director Claire Farrant.
"Given our commitment to always be 'Big on quality, Lidl on price' this year we wanted our Christmas advert to show that we really do mean always, no matter what the future has in store for us!"
Products featured in the advert include its Deluxe Pigs in Blankets, Crémant de Loire (£8.49), a Vegan Garland and a full festive spread with a free-range British turkey.