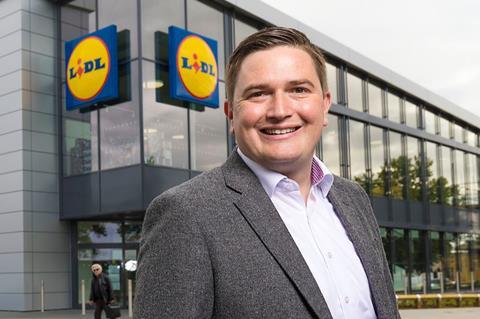 This Christmas will be harder work than any before it thanks to the challenges of 2021 from labour shortages to Brexit, Lidl GB CEO Christian Härtnagel has said.
Lidl was in a much better place than 12 weeks ago, and expected to give customers a great Christmas, with the biggest problems overcome, but isolated issues continued to arise daily, he said.
"We have overcome systematic issues, so there is no empty fizzy drinks aisle, no empty bread aisle because there is no CO2 for the packaging and so on," he told The Grocer.
"We're now talking about isolated issues. We're talking about a labour shortage here, an IT issue there, packaging shortage there, every day something new.
"Availability is much better than it was 10-12 weeks ago. It's still not where we would like to have it in normal times but our customers are going to have a great Christmas. But to deliver this Christmas will be much harder work than any Christmas before.
"To overcome and deal with all these issues – shortage of transport capacity, shortage of labour at production sites, shortage of labour in warehouses, imports, Brexit – we have incredible teams working around the clock. And we're getting it done but we're getting it done with huge work and huge commitment from our colleagues."
He said: "Twelve weeks ago I wouldn't have said we were in a good place", adding "everything we saw in the peak of availability issues at the end came down to labour shortages".
Speaking as the Lidl announced its full-year results this morning, Härtnagel also acknowledged global shipping delays had caused problems for middle aisle general merchandise, though the discounter was still managing to deliver the advertised range.
"We our ordering these hugely in advance, so production is happening hugely in advance and we usually have a good buffer in our system. That buffer has completely gone, eaten up, leading to some delays, but we will know these delays in advance and therefore if you look in our leaflet, what the customer sees in the leaflet they can find in our shop floor."
Härtnagel also confirmed that, as revealed by The Grocer earlier this year, the business was working on a scan-as-you-shop app called 'Lidl Go'.
"We're monitoring with high interest what's happening in the market, what competitors are doing and we're looking at this but no immediate news, nothing around the corner," he said.
"We're not there yet but we have an app and we have a name. That's a starting point."
He said Lidl was "only going to launch it once we're convinced it really works for our customers as well as for our business".
The results revealed a bounce back into the black in the year ended 28 February 2021 as revenues jumped 12% to £7.7bn.
The rise in sales throughout the pandemic helped Lidl move from a £25.2m pre-tax loss in the previous year to profits of £9.8m. Earnings before interest and tax were also up 311% to £44m.
Lidl also announced a new estate growth target in its results, of 1,100 stores by 2025, having exceeded its annual target by opening 55 stores in the year despite the pandemic.
The business said it was on track to hit an existing target of 1,000 stores by the end of 2023, with the number currently standing at over 880.