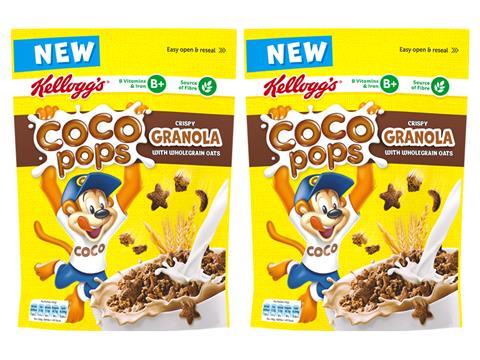 The ads watchdog has performed a U-turn on a decision from earlier this year that Kellogg's breached strict rules on targeting high fat, salt and sugar (HFSS) products at children.
In August, the Advertising Standards Authority banned a TV commercial for the cereal giant's Coco Pops Granola – upholding a complaint from the Obesity Health Alliance.
The TV ad, seen in January during children's cartoon Mr Bean, was for an HFSS product, the OHA claimed. It was shown during a show principally directed at, or likely to appeal to, audiences below the age of 16.
Kellogg's insisted Coco Pops Granola was not an HFSS product, and that the company had strict internal policies and processes to ensure its HFSS products were not advertised to children.
Nevertheless, the ASA decided many adults and children were likely to "very strongly" associate the Coco Pops brand and monkey character primarily with original Coco Pops. At the time the ad was seen by the OHA, Coco Pops original was an HFSS product and the Coco Pops range was mainly HFSS.
However, the ruling was reversed today (21 November) after Kellogg's appealed its case via the ASA's independent regulator. The regulator's revised decision was that the only product featured in the ad was Coco Pops Granola, which was a non-HFSS product – "and we therefore noted that the ad did not feature an HFSS product".
Kellogg's was "pleased the advertising regulator has reversed its decision and ruled that this advert was not in breach of official rules" said a spokeswoman for the supplier.
It felt the judgment in the summer "had potential unintended consequences for the industry and the positive intent of the regulations – acting as a disincentive for food companies like us to develop and launch better for you alternatives at a time when people are looking to our industry to take action".
She added that Kellogg's remained "committed to playing our part and helping people pick healthier choices in the morning. That's why last year we announced a significant overhaul of our cereals, including substantial sugar reduction."
The Obesity Health Alliance was critical of the ASA's U-turn. The original ruling had "closed a loophole preventing food companies from advertising to children by using characters and music associated with their unhealthy products" said alliance lead Caroline Cerny.
The reversal of the August decision was "what happens when a multinational food company uses its legal weight to fight rulings that influence their profits" she claimed.
"Sadly, the price is the future health of our children. This is just another example of why we need strong government action to protect children from unhealthy food marketing, starting with a 9pm watershed on junk food adverts on TV."
In related news, the ASA today castigated McDonald's and Burger King for poster ads near primary schools, promoting McFlurry variants and the Whopper Jr meal deal.