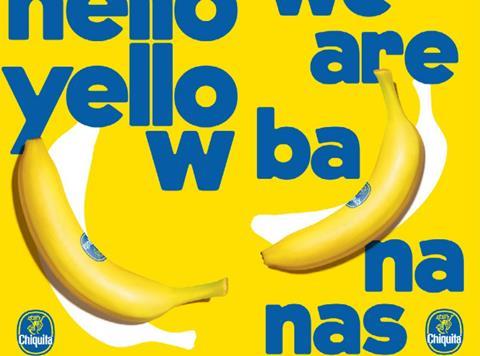 Banana brand Chiquita has launched a new marketing campaign designed to build awareness of the brand in the UK, including a partnership with upcoming animated movie Despicable Me 3.

Chiquita has increased its marketing spend from last year's 'Just Smile' campaign and invested a "significant" amount in its new summer activity, the brand said.

The 'We are bananas' campaign will run for four weeks from 17 July, with advertising on 300 black cabs, five London buses and various outdoor screens in central London. The ads will feature lines to "make people smile" such as 'delicious straight or bendy', and 'banana coming thru' on the London buses.

Chiquita has also launched stickers and sticker pouches for its bananas, which will be available in various independent retailers across the UK from the second week of the campaign.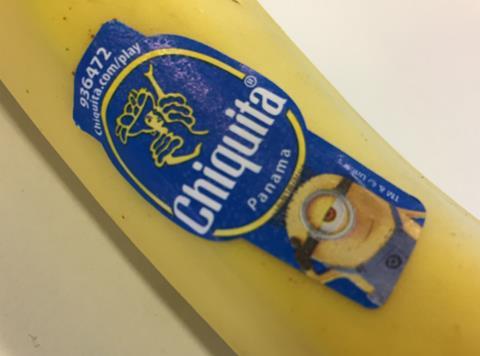 The on-banana stickers will feature Despicable Me characters alongside the Chiquita branding, with the hope of building brand awareness among mums and millennials.
The sticker pouches will also target families, and will include collectable stickers of Despicable Me characters on the necks of banana bunches, on around 10%-15% of bananas per box, or two to three bunches.

"Our 'We are bananas' and Minions stickering campaigns will once again put Chiquita bananas front of mind during the key summer and back to school periods, further bolstering our success in creating a vibrant branded banana category for UK retailers," said John Cockle, Chiquita's sales and market director for UK and Ireland.

"This is the third time that we have run a high-profile summer campaign in London, which demonstrates our commitment to further building the Chiquita banana brand in the UK."

Chiquita launched its first UK consumer campaign in 2015 by advertising on 300 London taxis, which the brand doubled last year to 600 taxis, reaching around 47 million consumers in 2016.