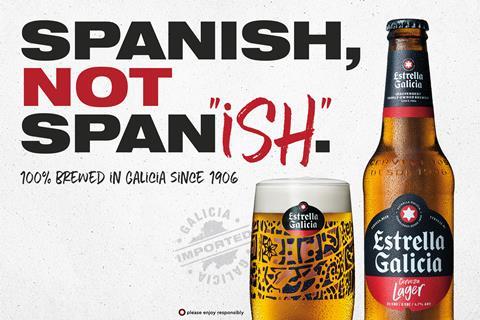 Estrella Galicia has launched a new out-of-home campaign calling out "big British-brewed brands masquerading as Spanish beers".
The Spanish heritage beer brand, brewed in Galicia since 1906, said its new campaign would "raise awareness of our true Spanish roots and authenticity".
It would comprise digital displays in targeted locations displaying messages such as "Spanish not Span-'ish'" and "don't fall for fake brews", as well as a national radio and social media push, creative agency Southpaw said.
The agency said it landed on the campaign after consumer research from Euromonitor found 80% of premium beer drinkers consider authenticity important to them, and that people would pay more for a genuine Spanish import.
"Real social listening showed us that world beer lovers were starting to get really upset about being duped and cheated by big British-brewed brands masquerading as Spanish beers," Southpaw head of strategy Niki Jones explained. "So we went all-in with a provocative but funny campaign to open more people's eyes to the noisy pretenders."
Estrella Galicia's marketing manager for UK and Ireland Lindsay Castling added her belief the campaign would "encourage those beer drinkers in the UK looking for a true Spanish beer" to seek out its brews.
The campaign is likely to be seen as a direct challenge to Molson Coors and Heineken, both of which have brought Spanish-inspired lagers brewed in the UK to market in recent years.
Molson Coors' Madri Exceptional – brewed in Burton upon Trent – has been a standout performer in lager, racking up sales of over £65m in less than two years since launch [NIQ 52 we 9 September].
Heineken introduced a version of its Cruzcampo lager to UK shores this year. The beer is a lower abv version of the Spanish-brewed Cruzcampo Especial, and is produced at Heineken's brewery in Manchester.
The Grocer has approached both Heineken and Molson Coors for comment on Estrella Galicia's new campaign.