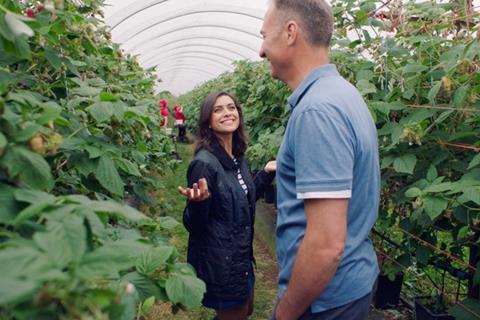 M&S Food has teamed up with ITV weather presenter Lucy Verasamy on a marketing campaign telling the story behind its fresh produce.

The first 60-second commercial aired this week and showed the TV star visiting a farm that supplies the retailer's sapphire raspberries.

Some 24 episodes are to be shown over the next six weeks. They will showcase M&S Select Farms-sourced products including red diamond strawberries, tomatoes from Isle of Wight-based farmer Brian Moralee, as well as responsibly sourced fish including Scottish salmon fillets.

The adverts will run after the early evening ITV national weather bulletins, which are said to reach more than four million people each day.

"We're passionate about offering our customers great-quality, seasonal fresh food at trusted everyday value," an M&S spokeswoman said.

"We know all eyes are on the weather during the summer and our partnership with ITV gives us a nightly window into the nation's homes to tell the stories behind our delicious produce and meat."

ITV commercial deputy managing director Simon Daglish said: "This brand new ITV Weather campaign is another great example of how the creative power of TV can be used to bring a brand to life."

Throughout the summer, in-store point of sale and a monthly 'What's Fresh at M&S' magazine will highlight the brand's Fresh Market Specials, great-value offers on produce and meat, fish and poultry.