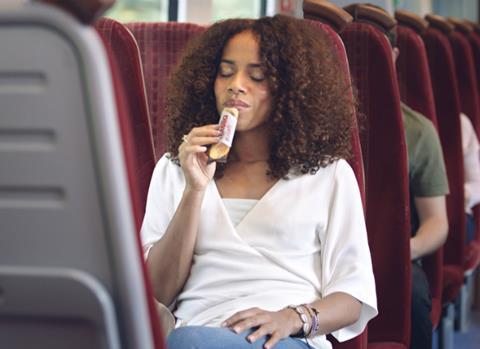 Nutella will this weekend kick off a £2.8m push for its new B-ready snack bar – the Ferrero brand's first move into the UK biscuit category.
The multichannel campaign includes a 30-second TV advert, which sees Nutella "unleashing its playful side" and focusing on the late-morning snacking occasion.
A teacher and a business executive both surprise the people around them by failing to resist the urge for the hazelnut spread and whip out a jar at an unlikely moment. Then a young boy on a train, about to eat Nutella on bread, is amazed as a nearby woman eats a B-ready. The closing voiceover says: "If you love Nutella in a jar, here it is in a bar."
The commercial will run until mid-October to underline "the nation's love for the popular spread" said the brand.
The UK "really does love Nutella and people eat it in many different ways" added Levi Boorer, customer development director at Ferrero UK. "We wanted to bring this to life, while showcasing our new Nutella B-ready product that allows people to enjoy the taste of Nutella wherever they are."