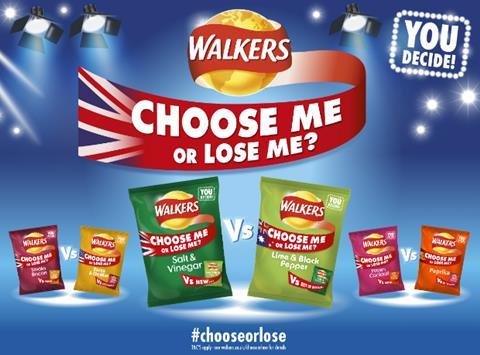 Walkers is to launch Choose Me Or Lose Me, one of its biggest campaign of 2017, inviting shoppers to vote for their favourite flavours or risk losing them to new ones.
The contest will see UK core variants Salt & Vinegar, Prawn Cocktail and Smoky Bacon take on popular overseas challengers Lime & Black Pepper (from Australia), Paprika (Spain) and Bacon & Cheddar (US).
Brits will be able to vote for their favourite by buying a pack or going online. The outcome will be determined 80% by purchase and 20% by web vote. The losing flavours will be axed in "a bold move", said Walkers. "The future of key flavours will be placed in customers' hands."
With the snack giant's core lineup bought regularly by a quarter of the UK, the campaign was based on "strong insights around the importance of snacks to British consumers," said Thomas Barkholt, marketing director at Walkers owner PepsiCo.
"Our consumers feel passionately about their favourite Walkers flavours, and we wanted to give them the opportunity to vote in regards to which flavours will be staying on shelves," he added.
Available in a 32.5g single, 50g grab bag and multipack formats, the campaign will run from 31 July to 22 October. It will be supported by TV advertising, PR, digital, social media and in-store.