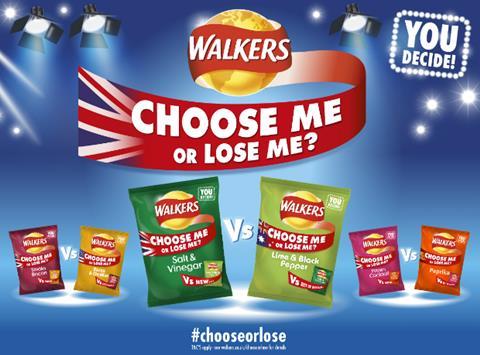 Three classic crisp flavours from Walkers will remain on shelf after surviving the brand's Choose Me or Lose Me public ballot.
Core UK variants Salt & Vinegar, Prawn Cocktail and Smoky Bacon triumphed over popular overseas challengers Lime & Black Pepper (from Australia), Paprika (Spain) and Bacon & Cheddar (US) – after shoppers cast 778,636 votes over the 10 weeks from 14 August to 22 October.
Promising to axe the popular seasonings were they to lose, the campaign ran across single, PMP, grab bag and multipack formats, supported by TV advertising, PR, digital and social media activity. It was "a hit with retailers, generating a 19% uplift in value sales for the core classic flavours" said Lisa Nash, Walkers senior marketing manager at PepsiCo.
"We are thrilled to see how the campaign truly captured the imagination of the public and how passionate consumers were about keeping their favourite flavours, especially through commenting on what losing their favourite flavour would mean to them via social media."