Brands have realised they can play a part in making the world a better place – whether through category-disrupting leaps or small increments.
But they risk getting so caught up in communicating their green or ethical credentials that they forget to connect with the people they are trying to reach. Too often, boring brown craft paper and green leaves relegate a product to the 'sustainable aisle' in store. That product will never stand out among all the other craft brown and green leaves, let alone attract the interest of a mass audience.
If brands genuinely want to do good, the biggest impact they can have is through driving mass behaviour. So, while a protest attitude and disruptive design might be useful in conveying a core mission or approach (and help brands to stand out from others), it needs to be rooted in a strategy and brand world that appeals and resonates with lots of people.
While it's admirable that brands want to make the world a better place, they shouldn't lose sight of the fact that people don't buy a product for doing its bit to save the world alone. They buy it because the product fulfils a need and it might also do some good for the planet.
Here's what brands need to consider and some of the best examples of those getting it right.
Nuud: building a brand with mass appeal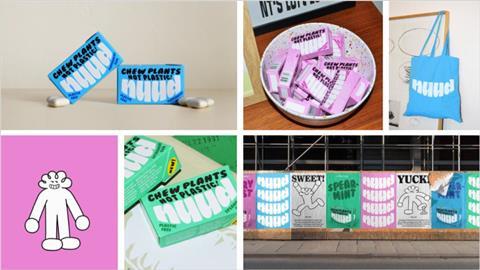 Nuud is a plant-based, plastic-free chewing gum that biodegrades like a banana skin. It's sugar-free, vegan and tastes great. The ambition for this newcomer was mass adoption, not just appealing to the sensibilities of a niche audience.
So, unlike competitors whose brand identity focuses on telling a sustainable story (cue white boxes with pictures of natural ingredients), Nuud's branding speaks to freshness, retaining blue and green as its core colours. Fresh breath is why the majority of people buy gum, after all.
The brand also highlights what people are putting in their mouths with 'standard' gum through its unapologetic strapline 'chew plants not plastic'. Category colour cues, married with a provocative strapline and a fearless and fun brand world, helps Nuud feel both familiar yet compelling, making you want to buy it even if you didn't necessarily go out looking for an eco-friendly gum.
Who Gives a Crap: standing out through creative design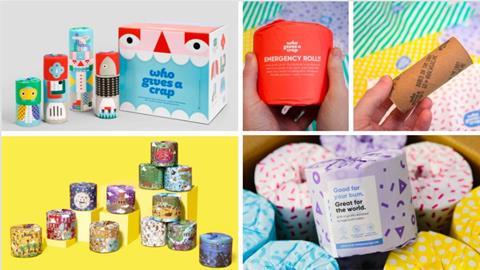 Consumers have a lot of choice – sustainable and otherwise – so fledgling ethical brands need to cut through the noise visually. One brand to have done just that is Who Gives a Crap toilet paper. It uses recycled paper or fast-growing bamboo in its products and donates 50% of its profits to help build toilets for the two billion people worldwide who don't have access to proper sanitation.
As WGAC demonstrates, having a serious intention doesn't mean the branding needs to be serious. From the cheeky name to the packaging, the tone of voice printed on the box to the last 'emergency' toilet roll in every multipack, it all strikes a balance of being playful and joyful, while also being thought-provoking.
The brand has managed to reinvent the toilet roll, creating distinction and cut-through in an otherwise homogenous category, bringing a sense of feelgood in every consumer interaction.
The Fussy natural deodorant brand is another good example of cut-through with design. It might not have million-dollar ad budgets, but it uses the design of its product and packaging as part of its narrative to stand out. The brand is asking people to spend more on its sustainable products, and it's convincing them to do so by adding value through design and offering a more elevated product – one that fits in with their lifestyle and aspirations.
Arley's: don't underestimate the power of familiarity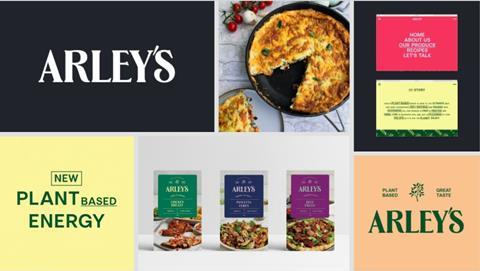 What most people crave from food brands isn't mechanical innovation or difference; it's a homely sense of reassuring familiarity. Just think about the trusty stewards that occupy our food cupboards, like Heinz, Cadbury's and Hovis.
Plant-based grocery brand Arley's recognises this, and has shaped its strategy on becoming the 'new tradition'.
The branding taps into the rich typographic history of British family-run producers, taking inspiration from hand-lettered signage to inspire comfort. Classic turn-of-the-century styling is then offset with a contemporary colour palette, helping to make this century's biggest innovation in food science feel as nostalgic as grandma's hotpot recipe, appealing to non-meat and meat eaters alike.
Milgrad: make every surface count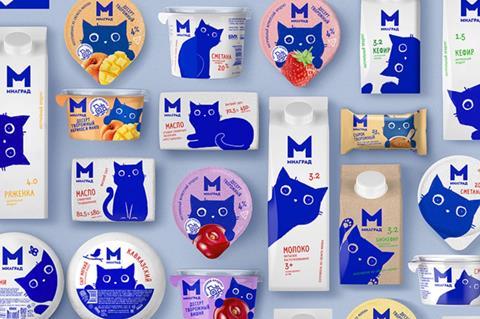 For those smaller sustainable brands that don't have the budget to spend on a large advertising campaign, making the most of every surface available helps reach a wider audience. This is especially important when thinking about how brands turn up and use their packaging in the all-powerful supermarket aisle.
Russian brand Milgrad by Bryansk Dairy Factory, for example, uses a blue cat on its packaging. This travels through the pack, creating different narratives in a humorous and distinctive way.
Oatly is another great example of this. They cleverly use every design element of the packaging as a communication vessel, recognising its role as an educator of the problem it is trying to solve.
Of course, brands need to make sure their sustainable efforts don't just exist in their branding. People will see through greenwashing, so brands need to ensure these values inform the whole organisation, rather than just the product/service that is being sold.
But the biggest impact a brand can make is if it's adopted by the masses rather than a niche, so effective design and branding is one way to ensure these products resonate with lots of people, not just a few.