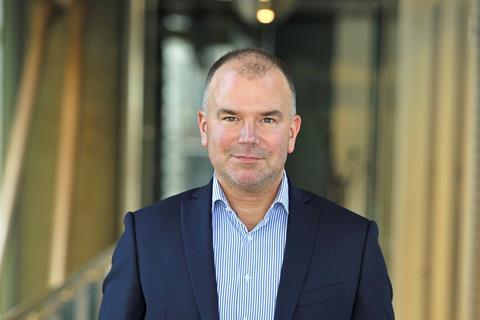 M&S Food MD Stuart Machin has written to farming unions promising the retailer will not compromise on any of its commitments to support UK agriculture.

Machin reasserts M&S's commitments on dairy, beef, lamb, pork, poultry and fresh produce, promising it will "not waiver" amid the challenges of coronavirus.

Writing to the NFU, NFU Scotland, NFU Cymru and the Ulster Farmers' Union, he also says the government needs to address "urgent issues" facing dairy, warning retail cannot take the milk volumes left by the foodservice shutdown.

The letter echoes calls from the NFU for the government tackle a "desperate" crisis for dairy. Defra responded to mounting concern by confirming on Friday the government would temporarily relax elements of UK competition law.

Highlighting M&S's 20-year-old 'Milk Pledge' to pay fair farmgate prices, Machin's letter adds: "None of our commitments to dairy farmers will change throughout this period, but I recognise there is a significant challenge in the wider industry caused by the collapse in demand from the hospitality sector.

"This is a structural problem in the market and unfortunately it is not possible for retail to take the additional volumes as there simply is not the demand from customers. I would therefore encourage government to work with industry to address what I know are very urgent issues."

Machin also urges the government to tackle the labour crisis facing fresh produce. "It is crucial that producers are supported by government to ensure the labour supply is available to pick this fantastic British produce," he says.

"Without sufficient labour supply there is a real risk to the industry and the supply of British produce. I know this is something government is working on and would encourage them to work with the sector to find a solution quickly."

The letter points to all of M&S's beef being sourced from British farms, while setting out how it is helping to tackle carcase imbalance caused by the foodservice shutdown. It comes after Asda and Sainsbury's were criticised by the National Beef Association earlier this month for selling Polish mince.

"We know there is much mention of carcass imbalance in the media," Machin says. "However… our investment in product innovation means our carcass balance has improved with new product design and we're able to offer our customers an exciting range of products to help drive increased volume through our stores.

"In store you'll see increased sales activity on steaks."

The letter also sets out how M&S sources all pork and "almost all" lamb from British farms. It aims to move to 100% UK lamb by June this year, it says.

M&S's fresh chicken, duck, turkey and goose also comes from UK farms, he says, as do shell eggs.
"In what has been the most volatile and challenging period any of us can remember in food retail, I wanted to write to thank you and reassure you of M&S continuing support for UK farming," says Machin. "Let me start by putting on record my thanks for the support we have received from our supply chain and our Select Farm farming community.

"Our strategy at M&S Food is to protect the magic, while modernising the areas that we know we need to focus on. At its core, protecting that magic is about protecting the quality and provenance of our food; and the strength and longevity of our supplier partnerships. Therefore, despite these challenges, our support for British farming will not waiver and our long-standing commitment to UK agriculture will not change.

"Our business relies on the support of our M&S Select Farm farmers and growers and, with their support, we will be in a strong position to see out the current challenges. We are clear that we want to emerge from this crisis with us and our suppliers stronger, together, and we can only do that if we work in partnership."