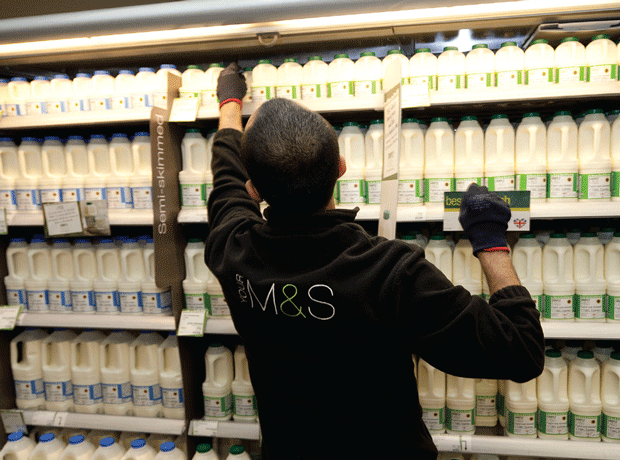 M&S workers will get a 15% bonus as a thank you for their hard work during the crisis

Vulnerable staff are on 12 weeks' full-paid leave

Frontline staff will recieve face shields as an extra safety precaution
M&S is giving store and supply chain staff a 15% pay bonus in recognition of the added pressure they are under during the coronavirus pandemic.

The hike tops that of the 10% bonuses already announced by a number of supermarkets including Tesco, Sainsbury's and Aldi.

The M&S bonus is for staff continuing to work, while those furloughed will receive their usual full pay, topping up the 80% provided under the government's job retention scheme.

The closure of clothing & home store operations last week meant there were more staff than needed in large branches but furloughing remained voluntary, M&S said.

The option is open to staff who have caring commitments or feel vulnerable during the coronavirus outbreak. The offer of 14 days' leave on full pay for those needing to self-isolate also remains in place. Staff who are pregnant, over 70 or vulnerable because of health conditions are already on 12 weeks' full-paid leave.

M&S also announced today frontline store staff will receive plastic face shields as an optional extra safety precaution in addition to checkout 'sneeze screens'.

The UK-manufactured face shields are easier to clean than clinical face masks and don't need regular adjustment, so wearers will be less inclined to touch their face, M&S said. Staff who take the option will get their own personal face shield.

"M&S fully supports the government's efforts to protect our NHS and save lives," said M&S's retail & operations director Sacha Berendji.

"We are actively encouraging social distancing in our Food Halls, and have already introduced a number of measures to help colleagues stay healthy and enable customers to shop for the essentials they need with confidence - from floor markings to the introduction of sneeze guards at till points.

"The latest measure is the introduction of reusable face shields, which will be distributed to our hard-working teams this week."

Like other retailers, M&S is also urging customers to make card payments and has upped the contactless limit from £30 to £45.