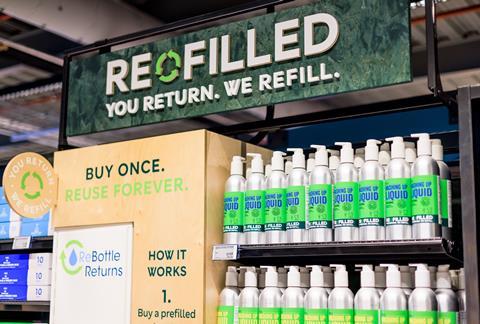 An M&S pilot of pre-filled and reusable packaging has led to a 'game-changing' initiative to scale the scheme by involving multiple retailers and brands.
M&S began selling eight own label homecare products, including washing-up liquid, in reusable containers across six stores in June last year. The initiative requires customers to pay an initial £2 deposit, redeemable as a voucher for a second purchase when they return the container.
The project is now being opened up to other retailers and brands, who can register their interest by 30 October in order to launch by 30 June 2024.
The scheme is powered by refillable packaging platform Reposit, which was also behind a pilot of Unilever household brands in pre-filled reusable containers in Co-op and Asda stores from 2021 to March this year.
Unlike Tesco's Loop reusable packaging trial, which ran in 10 stores in 2021 and 2022, the project uses standardised containers for each category, rather than bespoke ones for different brands. It means the same empty container can be returned for refilling to any of a number of brands, addressing what was seen as a barrier to the scalability of Tesco's pilot.
The intention is for shoppers to be able to "buy anywhere, return anywhere", according to the consortium of organisations involved, including campaigners City to Sea, which branded it a "game-changing moment".
Brands Ecover and Beauty Kitchen are already on board in the project, which aims to eventually offer 100 products across various categories in 200 stores.
Reposit founder and director Stuart Chidley told The Grocer talks were underway with most of the UK's biggest supermarkets as well a string of supplier giants. "L'Oréal, P&G, Unilever, Müller, Arla, Nestlé – all the usual suspects are talking to us," he said.
The containers could be made of steel, aluminium or glass and "we're doing work on plastic", he said, while the categories will initially include homecare, personal care and "potentially some beverages".
In M&S's pilot, sales of some products have exceeded those of their single-use packaging equivalent, according to the consortium.
"This is a game-changing moment in our collective battle against plastic pollution from packaging," said City to Sea head of development Jane Martin.
"Customers will be able to easily and accessibly pick up their favourite products in packaging that has already been refilled, safe in the knowledge that it will be used again and again, driving a circular economy."
The consortium argues that collaboration between brands and retailers is key to scaling reuse and helping businesses avoid the growing environmental and financial impact of packaging, including the cost of Extended Producer Responsibility from 2025.
Chidley said: "Doing this with anything that's currently glass or heavy plastic – skincare, beauty, home care, vinaigrettes, jam – the payback is relatively quick and assured.
"The more standardised and the more collaborative [the solution], the quicker the commercial and environmental payback.
"We've already got a lot of agreement from people and it feels like we're just on the cusp of a tipping point to really create some traction," he added.
He added: "A transition to reuse requires stakeholder collaboration and a prioritisation of actionable innovation that removes the barriers to creating a commercially, operationally and environmentally scalable reuse platform. We are calling on brands and retailers to get involved now so that we can collectively make the progress that consumers and the planet demand."
City to Sea said its research showed there was consumer demand for reuse initiatives, with a recent survey finding 69% of respondents were likely or very likely to try products in returnable packaging if they are available where they shopped.
M&S Food head of sustainability Lucinda Langton said: "Our customers are always pushing us to lead on issues they care about including reducing single-use plastic. The M&S Refilled Pilot has had a strong presence from customers since launch last year, and we're excited to join this UKRI-backed partnership to expand this reuse option further."
An Ecover spokesperson: "Sustainability is in our DNA. Ecover was founded with a clear mission to fight pollution and lead a clean world revolution. We have been offering our wonderful customers refills since 1993, when we began our 'Refill not Landfill' campaign. We are so proud of be part of this team to accelerate the industry towards a scalable, mainstream system of reuse."