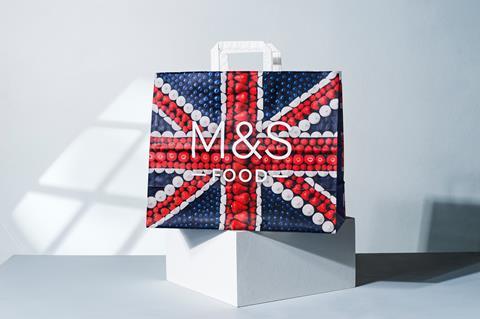 Marks & Spencer is swapping plastic carrier bags for paper ones in all stores, in an extension of trail that began in 10 branches in January.
The new bags are water resistant, thanks to a natural resin applied in the manufacturing process. They can also be left in household recycling bins when worn out, according to the retailer.
The paper bags, which are Forest Stewardship Council-certified, are available in all M&S stores across the country from today.
In a blog due publish today, M&S corporate affairs director Victoria McKenzie-Gould says they will save customers adding "to the mountain of plastic bags" that can build up in cupboards at home.
"Our paper carrier bags have all the benefits of plastic bags but without the same environmental impact," said McKenzie-Gould.
She said M&S had tasked a team at the University of Sheffield to undertake a "cradle to grave assessment" to determine whether it was better for the environment than plastic.
The team specified that the new bags should be made using renewable energy, since paper is more energy-intensive to produce than plastic. M&S's paper bags meet the criteria by being sourced from a single hydro-powered paper mill in Scandinavia, according to McKenzie-Gould.
The potential of the new bags to be used more than 100 times also far exceeds the minimum 10 uses specified by the Sheffield University team.
The new bags can also be easily folded into a backpack, according to McKenzie-Gould.
"We now have a solution that is better environmentally and which helps customers looking to make small changes to reduce their environmental footprint," she said.
"For the vast majority who already reuse their own bags, which remains the most sustainable option, not a lot will change. But on the odd occasion when we all need to reach for one more bag, we're pleased to be offering a more sustainable option for customers."
A number of other major grocers including Morrisons, Aldi and Waitrose also offer paper carrier bags.
Morrisons claimed a supermarket first as it scrapped plastic carrier bags in favour of paper ones in 2021, saying a life-cycle assessment by the University of Sheffield had found new the option had a lower overall carbon footprint. However, the supermarket did not release full details of the assessment, saying at the time it was commercially sensitive.