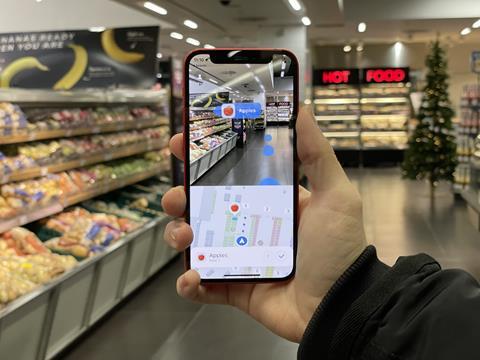 M&S has made an augmented reality wayfinding app at its White City store accessible to shoppers as part of a trial.
The app – called List&Go – allows customers to enter a shopping list of products and follow an on-screen path to their on-shelf locations. M&S called the tool a "UK first of its kind".
The supermarket commenced staff trials of the feature before Christmas. When a user's smartphone is held up, the app – developed by AR startup Dent Reality – shows markers and points to a product on a shelf. When the phone is held down, a compass points which way users should walk to reach their items.
"Through our 10x digital stores programme, we test and learn the latest technologies and innovations that can improve our customer experience – and that's what our augmented reality 'List and Go' shopping proposition is all about" Sacha Berendji, M&S group property, store development and IT director told The Grocer.
"We're excited to be launching this trial and hear our customers' feedback," he added.
Dent Reality – which late last year secured £2.5m in funding – said the tool pinpointed a shopper's location using the store's existing Wi-Fi network, and created maps of stores using digital planograms. A link between the store's systems and Dent Reality's technology means the app is automatically updated whenever planograms changed.
The aim of the trial is to "generate detailed feedback on the experience of navigating our stores for customers, and ensuring our fantastic product ranges are always displayed at their best and easy to find" an M&S spokesman said.
The spokesman added that the retailer will "review the results and then make a decision on what comes next, which could mean not taking it forward".
"If successful though, the next step will likely be to expand the trial to our other digital stores," they said.
The White City Westfield M&S store is one of five of the supermarket's digital test stores – with others in Kew, Harrogate, Epsom and Cribbs –where it runs innovation trials under its 10x digital stores programme.
Over the last 18 months the programme has "launched a wave of new initiatives to make shopping at M&S quicker and easier for customers" Berendji said, such as self serve click and collect via digital screens, QR code scanning of clothes on a customer's phone to immediately show where the product is available in their size and video calls with in-store colleagues through M&S.com so customers can "receive our expert advice from the comfort of their own home".