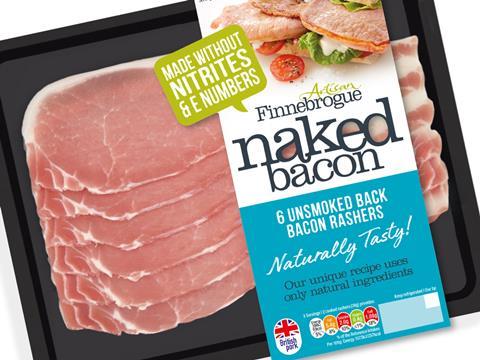 Smoked products are next in line to get the nitrite-free treatment from Finnebrogue, following the launch of its Naked range of bacon and ham last week.

The Naked brand is also set to include sausages, which are set to be marketed on having no E numbers.

The NI-based supplier is this month rolling out unsmoked nitrite-free bacon and ham under the Naked brand, having secured listings with several of the major mults.

This would be followed by a smoked range in the spring, chairman and founder Denis Lynn told The Grocer.

Finnebrogue planned to use some of the £14m it was spending on developing Naked to invest in atomising technology that would pass smoke through water and remove carcinogenic "nasties" before infusing the pork with a smoky taste. A launch date for smoked Naked Bacon was pencilled in for April 2018, Lynn said.

Naked sausages, containing no E numbers, were also in the pipeline, he added.

The Naked range - developed in response to a 2015 WHO report that singled out nitrites as carcinogenic - was the first in the UK to contain zero nitrites, Finnebrogue claimed. It is cured using a blend of Mediterranean fruit and spice extracts to give the pork its char­acteristic pink colouring, add flavour and match the shelf life of traditionally produced bacon and ham. "By removing the nitrites, bacon is no longer a category one [cancer] risk. It moves into the same level as meat, which is an unproven carcinogen," Lynn said.