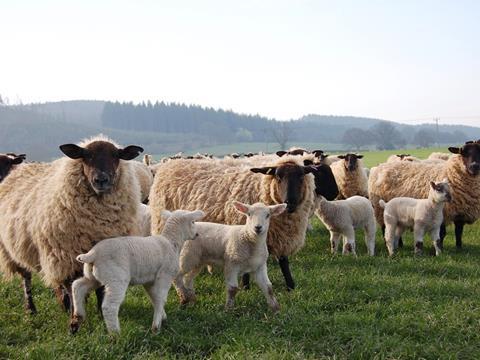 British lamb could be in demand in the EU this year, with shipments from New Zealand – which make up around 80% of the bloc's imports – falling short due to demand from China and the high cost of long-distance shipping.
"In theory the potential is there for more [to be exported] to the EU", said National Sheep Association CEO Phil Stocker, who pointed out exports of British lamb to the bloc were down by 27% last year.
His comments came as AHDB said in its latest biannual Agri-Market Outlook, published this week, that overall British lamb exports could grow by 5% in 2022, on the back of increased supply.
Meanwhile, the Irish Farmers' Association said a "change in supply pattern" had resulted in New Zealand filling only 46% of its EU lamb export quota in 2021 – the lowest figure "in decades", meaning other suppliers could step in.
There were significant opportunities to ship to the EU, suggested British Meat Processors Association trade policy advisor Peter Hardwick.
But production in the UK had been "considerably lower" last year, with slaughterings down 11%, leaving exports "some 20% lower year on year" to November, he said.
The cost of exporting, along with strong farmgate prices, also threatened to keep volumes down, suggested both Stocker and Hardwick.
But with AHDB predicting the number of available lambs would increase this year, Hardwick stressed "there were certainly opportunities to ship to the EU".
However, UK exporters will have to compete with Irish lamb suppliers, with the IFA suggesting this week that "ongoing issues with UK access to the EU market will create openings for Irish lamb".
AHDB's Agri-Market Outlook also warned that a mix of "aftershocks of EU exit, the economic ramifications of covid and the ongoing energy crisis, with its knock-on effects on input prices, are all likely to put pressure on bottom lines".
But if domestic production rose, UK beef exports could also benefit from "increased import demand on the continent" to grow exports by about 10% in 2022 "as new trading conditions with the EU become the norm for UK exporters", it said.