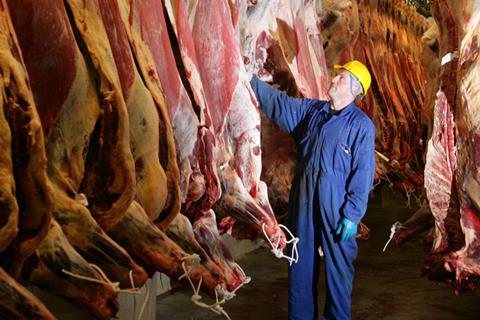 Meat industry bodies have called on the government to ensure meat workers are among the first to receive a Covid-19 vaccine following widespread outbreaks at processors over the past six months.
The British Meat Processors Association, the Northern Ireland Meat Exporters Association and the FSA have written a joint letter making the recommendations to the Joint Committee on Vaccination and Immunisation (JCVI) – an advisory body made up of immunologists and public health experts.
In it, they referred to the coronavirus outbreaks faced by the meat industry since the pandemic began. Out of 20 outbreaks reported at food processing facilities since May, more than a dozen have been at meat-related factories.
BMPA CEO Nick Allen said the cold environment in such facilities, combined with their rural locations meaning workers often share houses and cars, placed meat workers at particular risk of contracting Covid-19.
"Once sufficient supplies of a proven vaccine have been made available to at-risk groups like health and social care workers, we are calling on government to then extend prioritisation for vaccinations to include meat factory workers," he said.
"This would provide much-needed protection and comfort to this at-risk group and the communities in which they live, as well as ensuring that the critical food supply chain continues to run smoothly."
The BRC is also said to be pushing for the food industry to be given priority for a vaccine. It is understood food manufacturing would come ahead of the food retail sector in a UK vaccination roll-out strategy.
In its most recent recommendations to UK health departments, published in September, the JCVI suggested prioritising elderly and clinically vulnerable people as well as carers for a vaccine when a national rollout commences.
The list made no mention of other key workers, such as those working in the food and drink industry.
Public Health England, of which JCVI is a part, has been approached for comment.
It comes after an announcement today (23 November) that a coronavirus vaccine developed by the University of Oxford was at least 70% effective in trials. Last week, pharmaceutical giants Pfizer and Moderna announced their respective vaccines had been 95% effective in clinical trials. It has sparked hopes there will soon be a rollout of a vaccine in the UK.