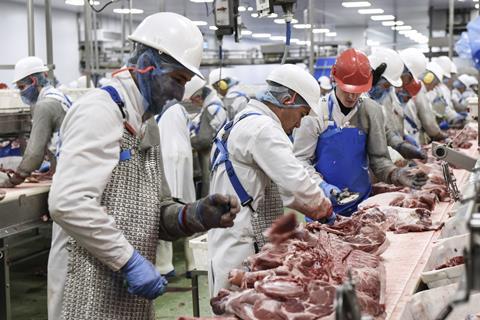 Tulip has become the latest meat processor to confirm cases of Covid-19 at its manufacturing sites, after sample testing at its Tipton plant led to the discovery of three cases of the virus this week.
The pork giant said it had undertaken 104 tests at the West Midlands plant on Monday, which employs more than 640 people.
All three who had tested positive, together with another 16 employees identified as having close contact with them, were now isolating at home in line with government guidelines, Tulip said.
A total of 35 Covid-19 cases have now been confirmed at its Tipton site since March, though Tulip declined to comment on the prevalence of the virus throughout its wider manufacturing estate.
But of the staff members who had been diagnosed with the virus prior to the latest cases, all had now returned to work safely, said Sandwell Council's director of public health Dr Lisa McNally.
"We will be conducting further testing across the workforce in the coming days so that we can identify and isolate any further positive cases," she added.
In addition to following government guidelines on social distancing, Tulip had "actively encouraged employees to report Covid-19 symptoms to ensure individuals with infection are appropriately isolated and tested to reduce the risk of infection to co-workers and the wider community", it said in a statement.
"Our team members at Tipton are key workers who have responded to this global pandemic in the most challenging of circumstances; their health and wellbeing is of the utmost importance and we welcome the support of health authorities."
The new Tulip cases follow a spate of Covid-19 outbreaks at meat and food manufacturing plants across the UK in recent weeks – including the closure of poultry giant 2 Sisters Food Group's Llangefni site on Anglesey after more than 200 cases of the virus were confirmed among its workforce.
Welfare fund
It comes as 2 Sisters today launched a £1m welfare fund for staff that who were suffering financial difficulties as a result of the coronavirus pandemic.
The support package included non-repayable welfare payments, additional leave (paid or unpaid) for those who needed additional time to sort out any financial difficulties and external and internal support from experts to help manage people's finances and budget issues.
"We are proud of our role in helping feed the nation and the huge importance of the thousands of our colleagues across the UK, who play a vital role," said 2 Sisters CEO Ronald Kers.
"We do recognise that especially during tough times, our colleagues' lives can be turned upside-down by job losses in their household, by bereavement or long-term illness. Quite often things on the surface may seem OK, but in fact there can be hidden hardship and it can happen for many reasons."
Elsewhere, canned food giant Princes temporarily closed its Wisbech site for 24 hours this week, after 19 Covid-19 cases were confirmed among its 407-strong workforce.
"As soon as these colleagues were symptomatic they were asked to self-isolate and contact the health authorities to be tested, and to be logged as part of track and trace efforts," Princes said.
"In addition to heightened levels of cleaning we have introduced as a result of coronavirus, we took the responsible decision to temporarily close the whole site for 24 hours so a further deep clean could be completed."
The factory produces canned and pouch products including baked beans, soups, pulses, pasta, vegetables and sauces.