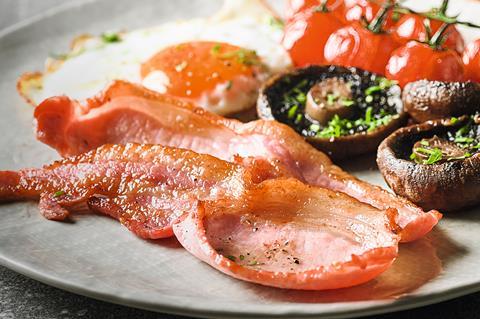 Waitrose has reduced the use of cancer-linked nitrites across its entire own-label fresh bacon and gammon ranges.
The supermarket said it was the first major retailer to introduce lower levels of nitrites across both its own-label bacon and gammon categories. However, the Co-op made a similar move across 24 fresh own-label bacon SKUs in January.
Waitrose has cut nitrites by 60% on its essential Waitrose bacon and gammon lines and by 10% in its dry cure bacon and gammon in all other ranges. The updated products started rolling out today (29 June).
The move comes in response to growing public awareness surrounding the use of nitrites in processed meat, following a landmark World Health Organisation report, published in 2015, which linked consumption to cancer.
The WHO study warned consuming 50g of bacon per day – the equivalent to two rashers – could raise the risk of contracting bowel cancer by 18%.
Nitrites are required for preservation and to produce the typical flavour, taste and colour characteristics of bacon.
"We know many of our customers love a bacon sandwich or the occasional full English," Waitrose pork buyer Amy Trobridge said.
"This change means that they can enjoy great tasting, high-welfare bacon with reduced nitrite levels. Our updated range doesn't come at any additional cost to our customers either."
Waitrose has experienced a 44% surge in bacon sales in the three months over the coronavirus lockdown as consumers across the UK ate more cooked breakfasts at home. Kantar revealed an estimated 20 million cooked breakfasts were eaten during the four weeks to 19 April.
The move by retailers to reduce preservatives in bacon follows the launch of a range of nitrite-free bacons and pork products by Northern Irish processor Finnebrogue Artisan, under its Naked Bacon brand, since 2018.